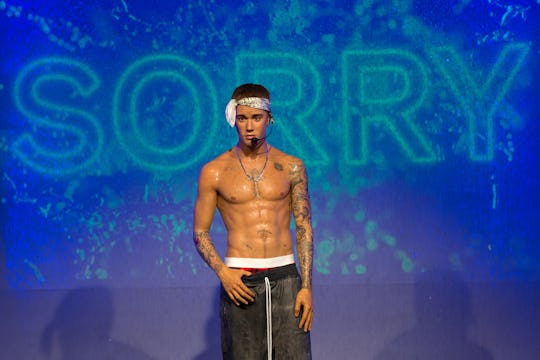 Ben A. Pruchnie/Getty Images Entertainment/Getty Images
Justin Bieber's AMAs Performance Had Fans Literally Crying All Over Themselves
On Sunday, music fans tuned in for the 43rd American Music Awards — and the awards show featured an incredible lineup of performers. But of all the performers scheduled for Sunday night, Justin Bieber had probably the most challenging set to perform, since he was performing live from Zurich, Switzerland while on his Purpose World Tour. Justin Bieber's AMAs performance was live-streamed to fans at the Microsoft Theatre in Los Angeles, California and on TV. Bieber was nominated for five awards Sunday night, including: Favorite Pop/Rock Album, Favorite Pop/Rock Song, Favorite Male Pop/Rock Artist, Video of the Year, and Artist of the Year.
Bieber's performance was actually fairly low-key. Fans didn't get a glimpse of Bieber's ridiculously chiseled washboard abs. (Seriously — Bieber's abs have gone from "that's hot" to "that's just intimidating.") His AMAs performance set list consisted of just one song — "Let Me Love You" from DJ Snake's debut album, Encore. Bieber's 2015 album, Purpose, was dubbed the 7th best pop albums of 2015 by Entertainment Weekly.. Dressed in just a black top and khakis, Bieber delivered a stellar — you might even say mature — performance for his fans around the world, thanks to the AMAs awesome live-stream.
For a live stream, Bieber's AMAs performance was pretty solid — no video lags or audio issues at all. Yay for technology! But in all seriousness, it was an impressive performance given that Bieber was halfway around the world. When Bieber started singing "Let Me Love You," fans literally started crying, both in Zurich and at the Microsoft Theatre in Los Angeles. Fans on Twitter didn't miss the insane crying that was happening at the AMAs, either:
Seriously, there were a few moments where you couldn't tell if this was a Justin Bieber performance, or the Beatles making their American debut on The Ed Sullivan Show back in 1964. Even stranger is the fact these fans were sobbing and crying all over themselves while merely watching a video live-stream of Bieber — he wasn't even actually there at the AMAs. But even from Zurich, Bieber was killing it with his mix of catchy pop tune, but stripped down performance, save for a few backup dancers:
Also, can we talk about Bieber's hair for a hot minute? Because whoa: It's hard to believe (belieb?) he's 22 years old. He definitely looked more "grown up," but he couldn't resist a boyish skip down the stage. Verdict? Alright Bieber, I'll let myself love you — but only because you gave a pretty solid AMAs performance.