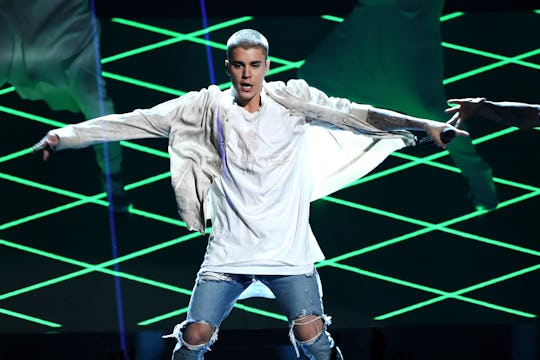 Kevin Winter/Getty Images Entertainment/Getty Images
Justin Bieber's Billboard Music Awards Performance Was Everything Fans Wanted
Justin Bieber wasn't just nominated for a number of awards at the Billboard Music Awards, he also delivered a stellar performance of "Company" and "Sorry." Justin Bieber's Billboard Music Awards performance sent fans into a frenzy on Twitter. Not only was the stage production of the performance amazing, but Bieber also debuted a new buzzcut that was a total throwback to a younger Bieber.
Lanre Bakare's description of Bieber's performance of "Sorry" was incredibly spot on. The audience at the awards and Bieber fans (and those who refuse to admit to being fans) online completely lost it:
Then he segues into Sorry. People are losing their minds in the fan section, and even the celebrities are singing along and genuinely look like they are loving this. The stage has gone a bit Wizard of Oz with emeralds everywhere as Bieber does the bogle.
Bieber recently made headlines for debuting his new dreads, which the Internet did not approve of. But his super short, buzzed hair at the BBMAs seemed to be something that people could get on board with — that, and his on-point dance moves. Bieber stuck to what he knows for his BBMAs performance, and that's what made it so great. Even people who don't like Bieber that much had to admit that his performance was pretty damn cool.
Just after the performance, Bieber won Top Male Artist, beating out the Weeknd and Ed Sheeran. And if his performance didn't make Beliebers freak out enough, the award took fans' feelings to another level entirely:
In 2013, Bieber was actually booed at the BBMAs, so this year is already looking much better. In addition to his stellar performance, Bieber was nominated in 11 different categories (but he was nominated twice in one category for two different songs), according to Billboard. Of course, there were haters saying that Bieber's performance didn't compare to P!nk, who was swinging from the ceiling on a number of suspended objects. Regardless, Biebers fans stood by him, because, really, those dance moves and the lights made for a pretty impeccable performance (not that I'm a Belieber or anything... no way).