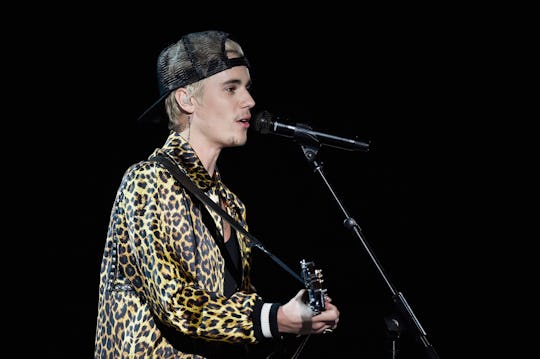 Kevork Djansezian/Getty Images Entertainment
Justin Bieber's Grammys Performance Was Stripped Down & Super Cool
The 58th Annual Grammy Awards were packed with great performers this year, including Taylor Swift, Kendrick Lamar, Adele, the cast of Hamilton, Lady Gaga, and Justin Bieber, according to Entertainment Weekly. Bieber's 2015 album, Purpose, included hits like "What Do You Mean?," "Sorry," and "Love Yourself." Justin Bieber's Grammys performance was just him on a stage, and it was totally beautiful. Things got a little strange when they cranked up the production, but the acoustic part was the Biebs from Believe that I have grown to love.
Bieber had a lot of competition on the stage that night. After the acoustic set, he performed alongside Jack Ü, which is made up of DJ duo Diplo and Skrillex, according to EW. But Bieber was super pumped about the performance during rehearsals, according to Entertainment Tonight Online. A source close to Grammys rehearsals reportedly told ET Online that Bieber would open the show with an acoustic version of "Love Yourself," similar to the ah-mazing one he did on Ellen in November. Someone should tell Bieber that he becomes quite a great artist when you subtract all the dance-y production stuff layered on top of his music (I volunteer as tribute. I will tell him). For example, fans who haven't listened to the acoustic version of Believe are seriously missing out. Don't you dare accuse me of being a Belieber.
Bieber's Grammys performance was a lot like that awesome Ellen performance, and it was beautiful. Even the parts with Diplo and Skrillex were pretty good.
Not everyone seemed to agree with me, though. Because, of course, the Internet loves to give Bieber hell. Poor guy.
But only true Beliebers understand that it's the evolution of Justin Bieber (that's a thing) that's amazing and awesome. Yes, his stuff has become kind of clubby and less about the vocals, but, you know, it's really hard being an adorable, young, tatted blonde guy today! (I kid.) But I do like Justin Bieber, and I am not ashamed.