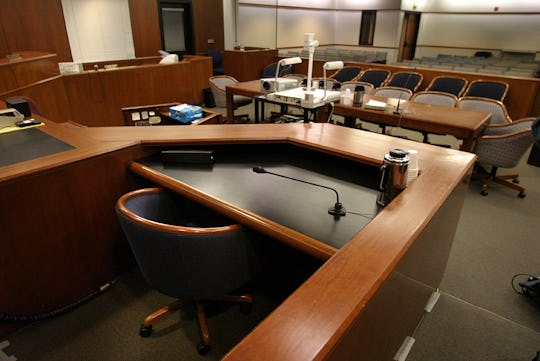 Pool/Getty Images News/Getty Images
Justin Ross Harris Convicted Of Murder For Toddler Son's Hot Car Death
In June 2014, a 22-month-old toddler named Cooper died after being left in a hot car for several hours in Georgia. On Monday, the toddler's father, Justin Ross Harris, was convicted of murder for the hot car death, following a high-profile investigation that captured the nation's morbid curiosity.
As CNN reported, Harris, 35, was accused of intentionally locking his son in a hot car for seven hours. The trial spanned for several weeks, until the jury reached its verdict. Harris was found guilty of three counts of murder, and two counts of cruelty to children, CNN reported. And according to the Associated Press, Harris was also found guilty of sexting a teenage girl – communications that were revealed through phone records during the trial.
The prosecution team argued that Harris intentionally locked his son in the hot car in order to escape his family-life responsibilities, the AP reported. Lead prosecutor Chuck Boring said that the jury said there was more than one factor that led them to the verdict. "It wasn't one thing that they said, 'This proves malice,'" Boring said, according to the AP. "It was everything."
Harris apparently told police officers he didn't notice that Cooper was left in the car while he was at work, and that he forgot to take Cooper to daycare. But the prosecution team pointed to online messages in an effort to prove intent. According to the AP, during the trial, the prosecution team claimed that Harris had sent the following online message shortly before leaving Cooper in the car: "I love my son and all, but we both need escapes."
But the defense team argued that, though Harris was responsible for Cooper's death, it was accidental, not a crime.
"The state wants to bury him in this filth and dirt of his own making, so that you will believe he is so immoral, he is so reprehensible that he can do exactly this," defense attorney H. Maddox Kilgore said, according to CNN. He also reportedly told the jurors, "you have been misled throughout this trial." Harris' ex-wife, Leanna Taylor, testified and came to his defense.
As the AP reported, the prosecution also revealed video evidence of a parking lot surveillance video during the trial, which reportedly showed Harris going to his car during his lunch break at work, though he reportedly did not get inside the vehicle. (The AP reported that Harris tossed light bulbs he purchased inside his car.)
Harris moved from Alabama to Georgia in 2012. He is expected to be sentenced on Dec. 5, CNN reported.