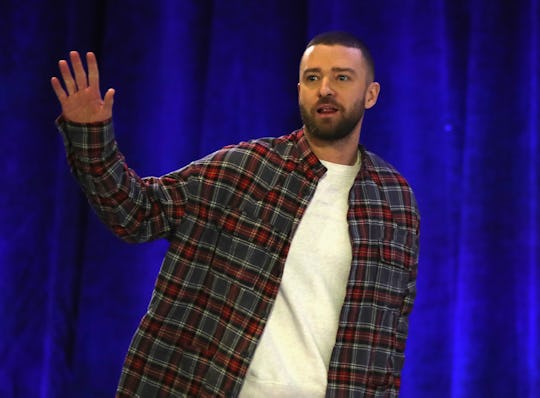 Christopher Polk/Getty Images Entertainment/Getty Images
Justin Timberlake Reveals That His Son Will "Never" Play Football
You would think that Justin Timberlake would be a fan of football, especially since the singer who has been performing for decades, is performing during the Super Bowl on Sunday. But Timberlake, who is the father to a young son, Silas, with wife Jessica Biel, just revealed something pretty interesting about his thoughts on the sport. Of course a universally acknowledged truth that Timberlake is musically inclined, so it should not come as a surprise that Timberlake doesn't want his son to play football. But with all of the musical talent that is probably sitting in Silas' genes, can you blame Timberlake for not wanting that to go to waste?
Playing sports can do wonders for a child — it gets them outside, helps them exert all of their energy, and treats them all about the importance of being a team player and working with others. But at the same time, playing sports can be a little dangerous (broken bones are a scary thought for any parent). The topic of playing sports typically isn't too controversial of a subject, but Timberlake appears to have taken a side on it.
During a press conference on Thursday before his Super Bowl performance this Sunday, Timberlake said that his son will never play football. You read that right — never. play. football. Even though, he joked, that his son did run quite a bit on the the football field during his rehearsals earlier this week, according to Mashable.
But just because Timberlake doesn't want his son playing football doesn't mean that he will push him into the music industry, either. "I'd rather not think about that because he's about to turn three," Timberlake said. Fair enough.
Timberlake has a point. Parents spend every day with their children, working towards raising them to be the amazing humans that they know they can be. To start thinking about his son's future or what kind of person he will be at such a young age is a lot of pressure, not only for his son, but for Timberlake, too. Timberlake elaborated on this, saying, according to E! News:
It's kind of like that thing where my main objective is that he become a great person and if he wants to get into the arts or sports, then yeah, I would fully support that. I can hopefully offer him some advice on what to do, what not to do, and so yeah, but right now we're working on our manners. It's a big deal in our house right now. It's like, one thing at a time.
When you're that young, it's impossible to imagine what you will be in the future (and actually stick with a plan) — so to determine a child's future is a little unfair. But, as Timberlake said, his role as a father is to not only give him advice, help him grow, but teach him how to tie his shoes and potty train him. Seriously, when it comes to toddlers, every day is an opportunity to teach them something new.
You can understand why Timberlake would be apprehensive to commit his son to anything this early, especially since he grew up in the spotlight himself, performing with his boyband, *NSYNC, as a teenager. In 2017, Timberlake opened up to The Hollywood Reporter about how he "did not have a normal childhood." Timberlake said:
You go through your life with your own traumas, big and small, and think "It's not that bad, I have a lot to be thankful for, my parents did the best they could." But then you have a child of your own and suddenly it opens all the floodgates, and you're like, "No, no, no! That childhood trauma really did f— me up!"
Based on this, you really can't blame Timberlake for wanting to give his son a normal childhood and not rushing to push any sport, hobby, or future career on him just yet. But Timberlake reiterated to The Hollywood Reporter last year that he would be there to give his son advice when the time to pick a career path does come. "I suppose I could teach him a lot about what not to do," Timberlake said.
When the time comes for Silas to pick his extra curricular activities and choose a career, it is pretty much guaranteed that Timberlake will be there to provide him with advice — whether he play on the football team or join his school's choir.