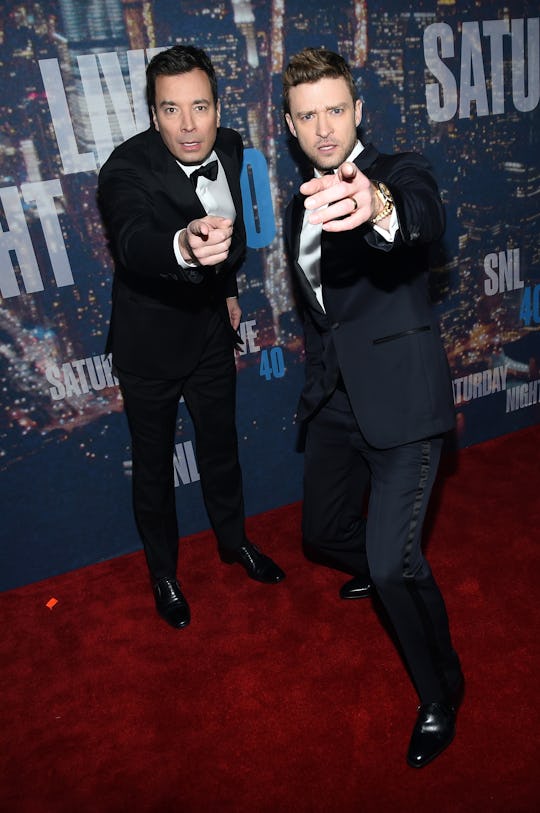 Larry Busacca/Getty Images Entertainment/Getty Images
Justin & Jimmy *Could* Reunite At The Globes
The 2017 Golden Globes are upon us, and the closer we get to the main event, the buzzier people are becoming about what host Jimmy Fallon will be able to pull off during his opener. One thing fans are wondering about is the presence of Justin Timberlake in Jimmy Fallon's monologue at the Golden Globes. Fallon has been dropping hints about his occasional bit partner, so it's possible.
This year, for the first time, the Golden Globes will actually have an "opening act," so to speak, in the form of a filmed cold open. Presumably, once that's over, Fallon will commence with the usual opening monologue, roasting some of the year's best film and TV. But he did admit that he typically feels some nerves before hosting, even when it's just The Tonight Show. But he told Access Hollywood that he has a plan in place, just in case he gets butterflies.
"I just try to make eye contact with my wife or with Justin Timberlake or somebody," he joked. "Justin Timberlake calms me down, so I'll find him in the audience, and he'll be like, 'Chill out, man, you're getting too nervous.'"
He also offered up that the cold open has "a lot of cameos," including television, film, and music stars, to salute one of the year's nominated films. (I'm going to take a wild guess and say the opener will be a La La Land spoof, which would allow it to be a traditional awards show musical opening number.) In an interview with People, Fallon actually fessed up who those celebrity cameos would be. (Except he whispered them so he wouldn't get into trouble with the spoiler police, so please keep this information on the DL.)
"There's a lot of people who are going to be involved with the opening. I don't want to name names or spoil anything," he revealed. "Ryan Reynolds... Someone's going to be in there. Tina Fey. Uh, but it's going to be good. Justin Timberlake — and Kit Harrington."
Basically, it sounds like everything we could ever want in a musical cold open, minus the Stranger Things kids, but the night is young! They could still happen!
Another possible reason for the star-studded opening act is that they had very little time to pull it together once everyone gathered in Los Angeles for the festivities. It was probably a lot earlier to pull off with such seasoned performers. The Golden Globes air Sunday, Jan. 8 at 7 p.m. Eastern Time on NBC.