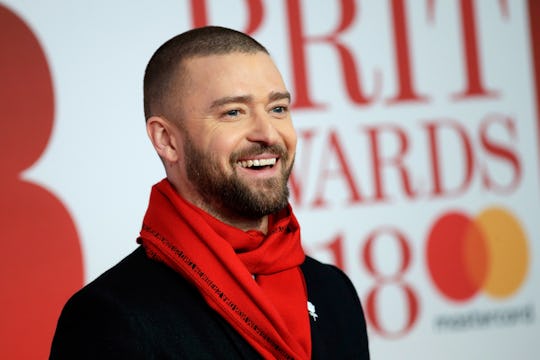 John Phillips/Getty Images Entertainment/Getty Images
Justin Timberlake Rocked Out On His Son's Toy Guitar & Well, Silas Was Not Impressed — VIDEO
It's an undisputed fact that Justin Timberlake can perform a song and that he's pretty darn good at it. The 37-year-old musician has proven time and time again that he knows how to create a bop and pretty much everyone can enjoy it. Well... not everyone. It's hard to tell if the pop star's little one was just totally over his dad showing off his musical talent or if Timberlake taking his son Silas' toy guitar was where the little boy's hilariously harsh reaction came from. As an adorably funny video that Timberlake shared over the weekend would suggest, it's probably the latter. But with kids, you never know, right?
Given his talent, Timberlake could probably write a song with a tin can and still make a hit. So it shouldn't come as a surprise to anyone that he made a jam using his 3-year-old son Silas' PJ Masks toy ukulele. In the sweet video shared on his social media accounts, Timberlake can be seen playing a few chords with the toy ukulele, enjoying himself and the song he is playing, perhaps trying to impress his little boy. "Dad life," Timberlake captioned the video. "His toys = my toys."
But, of course, Silas had a reaction that every little kid would have — downright mad that his dad had taken his stuff. How dare he!? "Don't take my toys!" Silas can be heard shouting in the video. Timberlake's reaction is almost as good, stopping in the middle of a chord and looking at his little boy to make sure he heard him correctly. For him, though, it's probably pretty humbling that his son literally does not care that the Justin Timberlake is performing a song just for him.
Even if Silas was not a fan of his dad's latest hit, he's pretty aware that Timberlake makes music for a living. Last month, Timberlake and his wife, Jessica Biel, hit the road with Silas during Timberlake's cross country, Man of the Woods tour, according to People. If he went on tour with his dad, then he more than likely knows that his dad has had thousands of people show up just to listen to him sing. Not that he cares, because that was made clear in Timberlake's video. Or maybe he does... as long he doesn't use his ukulele.
Perhaps little Silas is just a bit protective over his musical instruments because he's a budding musician himself? Silas made his musical debut on his father's newest album, Man of the Woods in the song "Young Man," according to Pop Crush. In the song, Silas can be heard cooing "da-da" as a baby and also telling his dad that he loves him. Timberlake told Beats 1 host, Zane Lowe that he never thought that he would write a song to his son (even if he named his album after Silas, whose name literally translates to "man of the woods," according to People). Timberlake said, according to Pop Crush:
I always knew I wanted to write a song for him, but I didn't know it would be a song to him. You know, it really turned out to be like if I was going to write him a letter...this was just my love letter to him that I felt like maybe this is something he can have as a sort of time capsule.
But this doesn't mean that Timberlake or Biel hope that Silas will enter the entertainment industry. Last year, Biel admitted in an interview that she doesn't necessarily want her son to be a musician because she doesn't want to watch him have to struggle in his career. Biel said, according to Entertainment Tonight:
I would like our baby to inherit Justin's charm and his sense of humor. There are many qualities I'd love him to get from Justin. But there's one thing I don't want for him. I really don't want him to be a musician.
Although Silas can share a feature with his dad on his album, when it comes to his own toys, it's clear from this sweet video that his dad needs to, well, back off.
Check out Romper's new video series, Bearing The Motherload, where disagreeing parents from different sides of an issue sit down with a mediator and talk about how to support (and not judge) each other's parenting perspectives. New episodes air Mondays on Facebook.