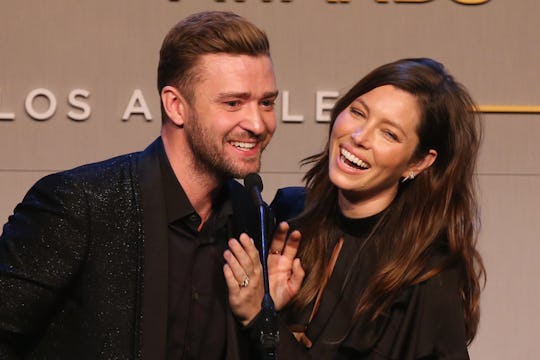 Jonathan Liebson/Getty
Justin Timberlake Posts Adorable Photo Of Baby Silas & 5 More Instagrams Of New Celebrity Dads - PHOTOS
On Saturday — triple-threat powerhouse who still fronts the boy band of my heart — Justin Timberlake took to Instagram to post an sweet moment with his son, Silas. Timberlake and wife Jessica Biel welcomed their first child, Silas Randall, on Apr. 11 earlier this year. The belated Christmas Instagram shows Timberlake giving a very bundled-up Silas a kiss on the cheek. Awww! Too precious. Timberlake added the following caption to this too sweet moment: "This life... Truly the GREATEST gift ever. Hoping you are spending time with the ones you cherish and remembering that we are ALL family. Sending love from ours to yours. Merry Christmas, everyone!! --J and J and S"
We all knew he was going to be an amazing dad from the day he posted that amazingly sweet Instagram of Timberlake kissing his wife's very pregnant belly. And then when he teared up during his acceptance speech at the iHeartRadio Music Awards about becoming a new dad... *swoon* Seriously, how do your ovaries just not explode when you hear Timberlake say things like: "Lastly, you can't have innovation without creation. So finally, I want to thank my best friend, my favorite collaborator — my wife, Jessica, who's at home watching. Honey, I can't wait to see our greatest creation yet." Oh stop!
Behold the adorableness of Timberlake's latest proud papa photo below:
And, because I'm a glutton for estrogen overload, here are five more adorable photos from some of the newest celebrity dads on Instagram:
Dwayne "The Rock" Johnson
Can you smell what The Rock is cooking? It's baby food! New daddy Dwayne Johnson welcomed his daughter, Jasmine, with girlfriend Lauren Hashian on Dec. 16.
Cleveland Cavaliers' Iman Shumpert
Shumpert definitely takes the most hands-on dad award for the year: when fiancée Teyana Taylor went into labor almost a month early, Shumpert delivered their baby with his bare hands in their home on Dec. 16! The couple named their baby girl Iman Tayla Shumpert, Jr.
Joey Gonzalez and Jonathan Rollo
Barry's Bootcamp CEO Joey Gonzalez and husband Jonathan Rollo, a Los Angeles-area chef, welcomed a baby girl, Francesca Isabella Gonzollo, on Dec. 2 with the help of a gestational surrogate.
The Hunger Games' Alan Ritchson
The Catching Fire star welcomed his third child, a boy, on Dec. 6. He and his wife named their new bundle of joy Amory Tristan.
Country Singer David Nail
The country singer welcomed a double bundle of joy with the arrival of twins on Dec. 12. Nail is now the proud papa to a boy, Lawson Brent, and a girl, Lillian Catherine.
Well, I think I've had enough ovary explosion for one day. Enjoy all your new little ones, boys!
Images: Jonathan Liebson/Getty; The Rock, Justin Timberlake, Teyana Taylor, Alan Ritchson, Samathan Jean Photo, David Nail/Instagram