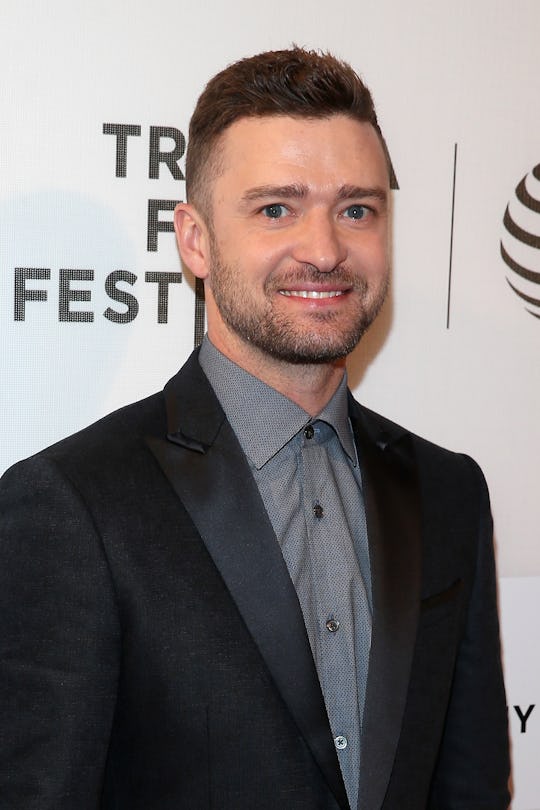 Rob Kim/Getty Images Entertainment/Getty Images
Justin Timberlake Releases A New Single &, As Expected, It's The Next Catchy Dance Anthem
When the groundhog sees its shadow, you know spring is just around the corner. At least, that's what they say. Something that's a little less disputable: when Justin Timberlake releases a new single, you know summer is not far away. That's just a fact. Go ahead and break out your shades and bikinis because JT just dropped "Can't Stop the Feeling."
The song is from the soundtrack to the movie Trolls, which comes out in November. Unlike Queen Bey, Timberlake isn't so good at keeping secrets. Throughout the week he's been hinting and teasing that something was coming. On Wednesday he tweeted that the song would be released in "2 more days." When a fan pleaded to know the song's name, he wrote, "#CantStopTheFeeling." After that, 'N Sync super fans turned JT super fans went into a Twitter frenzy. It makes sense. Timberlake has been keeping out of the spotlight lately, so this song is a surprise — and a very welcome one for his fans.
The song itself is a sugary, disco-pop anthem that's pretty much all chorus. It features Timberlake's signature falsetto at every turn, and at every turn it implores listeners to "dance, dance, dance." At one point it lists things that one could be doing instead of dancing, like leaving the party, or paying attention to some feeling "creeping up on you." Actually, listening closely to the lyrics makes them seem increasingly ominous and increasingly devoid of meaning at the same time, like when you repeat a word over and over until it begins to sound unrecognizable. All that said, it's catchy and easy to sing along to (the majority of the lyrics are "dance"). So, even if you don't see the Trolls movie, it'll surely seep into your consciousness at some point.
Like the song itself, the video is trying pretty hard to position itself as a summer go-to. It features all kinds of people, from all walks of life, dancing — because summer. There are even some celebrity cameos. James Corden, Anna Kendrick, and Gwen Stefani were all conscripted to sing along, smile, and have a good time.
There's no doubt it will be a popular pick among top 40 radio DJs, sports teams going to away games, and whoever chooses the music at beachside bars. And that's not all! This is just the first to come of many new JT songs to come. He's been working on a new album, and according to E! Online, he's collaborating with Pharrell, Little Big Town, and more.
Just remember: don't listen to the lyrics. Just dance (dance, dance, dance). The song is available on Apple Music.