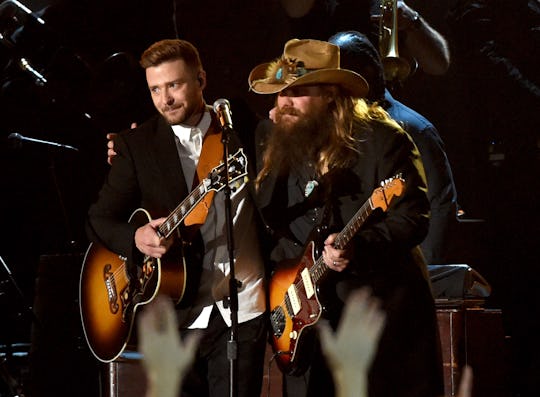 Rick Diamond/Getty Images
Justin Timberlake Rocked The CMAs With Chris Stapleton, Reminding Us All That He's A Country Boy At Heart
As usual, this year's Country Music Awards didn't disappoint. One of the best moments of the night? When Justin Timberlake sang "Tennessee Whiskey" at the CMAs, followed up by "Drink You Away" during a duet with pal Chris Stapleton — and totally brought down the house. And that's no easy task in Nashville. (Just sayin'.) 
Stapleton, who swept the CMAs — winning Male Vocalist of the Year, New Artist of the Year, and Album of the Year for his solo debut, Traveller — is also long time friend of  JT. "We've always talked about finding a reason to do something together," Stapleton told Rolling Stone Country on November 2, calling his buddy Timberlake "one of the greatest musical talents in the world, maybe ever." 
Well, after this performance, the duo should seriously consider cutting an album. With Stapleton's "Tennessee Whiskey," and Timberlake's "Drink You Away," the pair gave an awards show performance for the books. Between JT's falsetto and Stapleton's and smooth husky vocals, the buds garnered a standing ovation, stole the show, and of course, some hearts. 
Here's what Stapleton had to say before taking the stage with the pop/blues/country superstar friend, JT, According to Rolling Stone:
"I called him up with no thought of him agreeing to it, and he was ready to start planning it right then. I said, 'Well, I think maybe we should wait, and if we get nominated they'll let me have [a slot].' He was so gracious and kind to want to do it and was so excited about it, and I'm excited about it. It'll be something I've never done before for sure."
I don't know about you, but this is one bromance I totally want to hear more about. Stapleton, by the way is no slouch either. He's a successful songwriter with over 150 hits for country superstars, six of which have made it to the No. 1 spot on the charts. Now, he's claiming the spotlight for himself.
Watch him and JT put a little Memphis in Nashville. You're welcome. 
Image: Rick Diamond/Getty Images