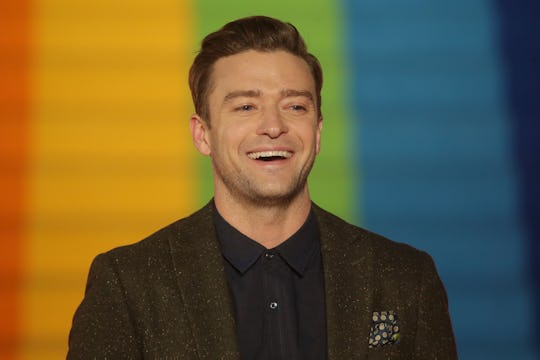 DANIEL LEAL-OLIVAS/AFP/Getty Images
Justin Timberlake Says Son Silas & Fatherhood Inspired 'Can't Stop The Feeling'
If you liked the summer hit "Can't Stop the Feeling," you may like it even more after hearing the next adorable tidbit. During an interview with Today on Tuesday, singer Justin Timberlake said his son inspired "Can't Stop the Feeling" — which means we all have one more reason to love Timberlake's 1-year-old son Silas (the first reason being that he's ridiculously adorable, of course). And Timberlake didn't only credit Silas with inspiring the hot summer hit, either: he said being a father has been life-changing.
"You literally just like wake up and look in the mirror and go, 'I have no idea what I'm doing,'" Timberlake said of fatherhood, echoing a pretty universal sentiment when it comes to first-time parenting. "Watching him learn things, this new appreciation ... it's humiliating and it's humbling at the same time."
As for creating music as a dad, Timberlake said, "[Fatherhood] changes everything. I would have never written a song like 'Can't Stop the Feeling.'" The upbeat tune is already considered one of Timberlake's happier, family-friendly tracks, and was featured in Dreamworks' Trolls. "I don't know that it was directly inspired to be something that my son could listen to of mine," Timberlake said, but "there's a lot of music he can't listen to of mine, at least not yet." (While we all loved "Rock Your Body," little Silas might be a few years away from listening to that 2002 hit.)
During his interview with Today, Timberlake also gave a shoutout to his wife of three years and Silas' mom, actress Jessica Biel. "You watch her realize she has a gear she didn't have, and then you go, 'Whoa,'" Timberlake said.
The celebrity pair have been pretty private about life with Silas, posting only the occasional picture of their toddler: Mother's Day and Father's Day both earned a picture, and on the Fourth of July, Timberlake posted an adorable picture of Silas holding an American flag and wearing a fedora just like Dad — but other than that, Biles' and Timberlake's Instagram feeds remain fairly child-free.
"You think a lot about the lives that me and my wife lead," Timberlake said in a Today interview in May. "But I wonder what privacy is going to mean in 20 years. ... But I think that's something that you don't have control over."
Hopefully, baby Silas will grow up with as much privacy as possible — while still letting us see the fun changes he brings to his dad's music. After all, having Silas-friendly tunes on hand means that parents can now play some JT around their own toddlers, as well.