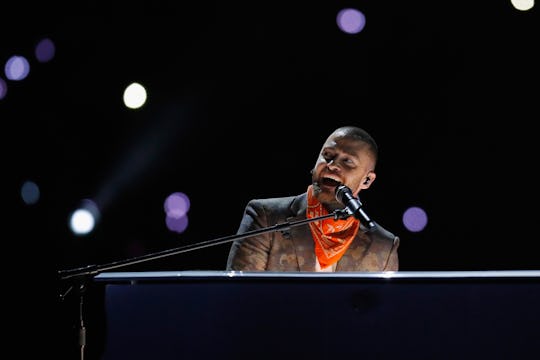 Kevin C. Cox/Getty Images Sport/Getty Images
Justin Timberlake Super Bowl Memes Show Fans Were Super Anxious About The Halftime Show
The Super Bowl is that rare event that brings together football fans, chicken wing enthusiasts, pop culture junkies, and people who genuinely love Doritos commercials. While the sporting is going on, there's a contingent of people who are just waiting in the kitchen for the halftime show, and these Justin Timberlake Super Bowl memes show that they were looking forward to the spectacle not just because the singer's known for bringing sexy back; he's also responsible for one of the most infamous non-sport related moments in Super Bowl history, and the world was super curious about the possibility of a repeat.
If you don't recall what happened last time Timberlake played the big game, let's just say that it was a bigger deal than Katy Perry's left shark and Beyoncé's Black Panthers shout out combined. It was the reason that good, honest, not-perverted people were furiously Googling "is Janet Jackson's nipple pierced?" the next day. OK, to be honest, Google wasn't as much of a thing in 2004; most of us — I mean them — were probably Yahoo-ing or Ask Jeeves-ing it, but that doesn't exactly have the same ring to it. At the culmination of Timberlake and Jackson's Super Bowl XXXVIII halftime show, he showed more than 140 million viewers her boob, according to The Hollywood Reporter. Accidentally. Allegedly.
Just as we have Gwenyth Paltrow to thank for the term "conscious uncoupling," it was Timberlake who introduced "wardrobe malfunction" into the modern-day lexicon, via an apology statement issued after the incident.
Jackson and Timberlake said that the plan was for him to remove a cup from her corset, revealing a bra underneath, but somehow, whoops! The bra cup came with it, and all that was left was a very intriguing piece of jewelry, according to Cosmopolitan.
Timberlake's statement, via Entertainment Weekly:
I am sorry that anyone was offended by the wardrobe malfunction during the halftime performance of the Super Bowl. It was not intentional and is regrettable.
Super Bowl LII provided Timberlake with a chance to show just how sorry he really was, and Twitter was on pins and needles waiting for his halftime comeback. Unfortunately, some of the more ~colorful~ fan theories wouldn't come to pass, because Jackson herself tweeted that she wouldn't be coming.
Fans were also very concerned about a recent rumor that Timberlake intended to "honor" Prince by performing alongside a hologram of the late Minnesota native.
This would have been in extremely poor taste, as Prince had spoken out about the practice of posthumous performances himself, calling them "the most demonic thing imaginable" and saying that he intended to "prevent that kind of thing from happening" to him, according to CBS Sports.
But late Saturday night, Prince's longtime friend and collaborator Sheila E put those fears to rest, tweeting that she'd personally spoken to Timberlake, who "shared heartfelt words of respect for Prince & the Purple fans," and assured her followers, "There is no hologram."
There was widespread speculation that JT would at least do a cover song or two, which would be more appropriate, although not everybody was on board.
Once Timberlake finally took the stage, a few viewers had a bit of an issue with the aesthetic.
OK, more than a few.
There were a lot.
Yes, this marks the very first time in history that somebody referenced Trans-Siberian Orchestra outside the month of December. But then, things got kind of interesting...
He danced with a microphone.
And it danced back.
And then, it happened. The Prince thing happened. Not quite a cover, not quite a hologram, but a duet with a video of the Purple One, projected onto fabric. Did that satisfy the fans?
It did! They were actually OK with it!
At least, most people were.
You can't please everyone, but in the end, the majority of viewers (those who tweeted, anyway) thought Timberlake did Prince, and his fans, right.
After a roller coaster of an evening, it seems that Timberlake is officially redeemed, but the real winners, as always, are the tireless jokesters of the internet.
Check out Romper's new video series, Romper's Doula Diaries:
Watch full episodes of Romper's Doula Diaries on Facebook Watch.