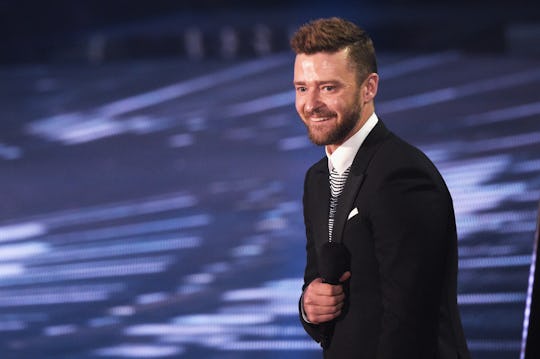 Jason Kempin/Getty Images Entertainment/Getty Images
Justin Timberlake's Fourth Of July Instagram Of Son Silas Is Super Patriotic
When it comes of capturing their kids enjoying holidays, celebrities really are just like us. Over the weekend, tons of bold names shared images of their families enjoying the Fourth of July holiday. But there was one toddler's photo that really gave all the right Independence Day vibes and won social media, hands down. Justin Timberlake's Fourth of July Instagram of son Silas is basically the most perfect patriotic baby snap ever.
The image shows Silas, now 14 months old, toddling out on the lawn holding his own American flag up to the huge version flying from a tall pole in the background. He looks excited to have made a match, something most 2-year-olds find particularly gratifying. Little Silas is rocking some rad little red shorts and the ultimate Timberlake accessory — the hipster hat. The caption under the image reads, "Happy 4th of July, America—The Timberlakes."
It's a darling little glimpse into the lives of one of the most famous families in the country, and by the look of things, the Timberlakes were definitely feeling all the Fourth of July patriotic feels this year.
The one thing missing from the Instagram is little Silas' face, which was likely purposefully left out of the picture because his parents are understandably concerned about protecting their little boy's privacy, something Timberlake has in the past said he worries about, considering how public both he and Jessica Biel's lives are.
But Timberlake knows a thing or two about how to stay sane growing up in the spotlight.
"He hasn't made any choices. He chooses eggs or bananas," Timberlake reportedly said on The TODAY Show, according to The Mirror. "You think a lot about the lives that me and my wife lead, but I wonder what privacy's going to mean in 20 years. Those are the questions that enter my mind, for sure, but I think that's something that you don't have control over."
He added that he thinks the most important thing for a kid like Silas growing up in such a public, famous family is a healthy dose of perspective. "The best thing I can do is to try every day to give your kid perspective so they understand what it means and what it doesn't mean."
Lucky for Silas, he has what every kid needs to navigate their way through childhood: doting parents. The former teen heartthrob even gushed about his diaper changing skills, according to The Mirror.
"When you have a kid, and there's poop, you gotta get in there!" Timberlake said. "Nothing trumps your kid's butt cleanliness. So you just have to get in there!"
Happy Fourth of July to the devoted parents.