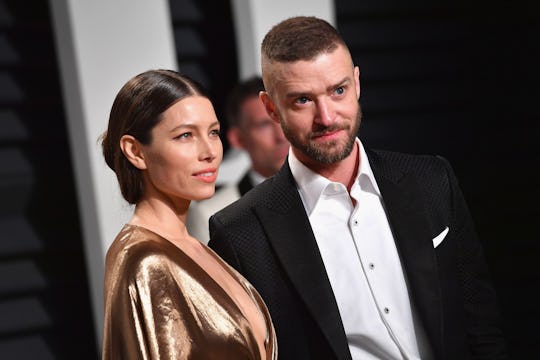 Pascal Le Segretain/Getty Images Entertainment/Getty Images
Justin Timberlake's Mother's Day Post For Jessica Biel Was Everything
Justin Timberlake and Jessica Biel are easily one of the cutest celebrity couples around these days, in part because they don't at all seem to feel the need to hide how much they love each other. And really, that has only seemed to become more obvious since the welcomed their son, Silas, two years ago. It probably wouldn't have been a stretch to assume that Timberlake would have had something sweet lined up for his wife on Mother's Day, but on Sunday, he pretty much won Mother's Day as a whole thanks to a public proclamation of his love on Instagram, according to Us Weekly. Justin Timberlake's Mother's Day Post for Jessica Biel was such a heartfelt message — not only to the mother of his own child, but to his mom, and all mothers everywhere.
In his super-sweet Instagram post, Timberlake posted a beautiful photo of Biel walking with Silas on the beach as sunset. But it was his message for her that really stood out. Timberlake wrote,
I marvel at you. It's so hard to put into words EVERYTHING a Mother does. And, you do it with such grace. Thank you for giving me the greatest gift and continuing to show him what it means to be a good person in the world. You make me realize how much my own Mother has done for me. #HappyMothersDay to you, my love.
As if that weren't already sweet enough, Timberlake went on to give a shout out to all the other moms out there who might be reading his words, because of course he did. He wrote,
And, to my wonderful Mother and all the Moms all over the world: Y'all really DO RUN THIS... I bow down to you. — JT
But as sweet at Timberlake's latest Instagram message is, it isn't even sort of the only time he's used the social media platform to publicly proclaim his love for Biel. In March, the singer posted a cute snap of the two of them together in honor of his wife's 35th birthday, and his caption was just the sweetest:
You make me laugh. You make me smile. You make me LOVE. You make me want to be BETTER. Speaking of, it doesn't get any BETTER than you... Now, I know for sure that it's BETTER to be lucky than good. Ask me who the luckiest guy in the world is and I will tell you that you are looking at him. Happy Birthday, my heart. — J
In fact, Timberlake's sweet birthday messages seem to be somewhat of an Instagram tradition in recent years. According to People, he also shared a lovey-dovey photo with the world in March 2016, and wrote, that his wife was "the GREATEST Mommy and Wife a man could ever ask for." A year earlier, he posted a birthday pic of his then-pregnant wife, calling her "the sweetest, most GORGEOUS, goofiest, most BAD-ASS chick I know."
Timberlake doesn't just save his sweetest comments for Instagram, though. According to Entertainment Tonight, in 2013, the singer spoke to Ellen DeGeneres about his marriage, and said that he had no doubt he'd chosen the right partner:
Every once in a while, I can catch a glimpse of her when she doesn't see me looking. I have this moment where I'm like, 'If you never make a good decision, if you only make bad decisions for the rest of your life, you made one really good decision.' It's nice to marry your best friend.
Then there was his beautiful acceptance speech in Oct. 2015, when Timberlake found himself being inducted into the Memphis Music Hall of Fame. According to TODAY, Timberlake joked that Biel was "beautiful, loving and incredibly understanding of her husband's shortcomings," but got emotional when he described her as his "rock," and told her that he loves her "more than [he] could put into words and more than any song [he] could ever write."
In other words, Justin Timberlake and Jessica Biel are basically the cutest ever. And the fact that only seem to be getting even cuter now that they are parents only makes them even easier to love as total celebrity #relationshipgoals.