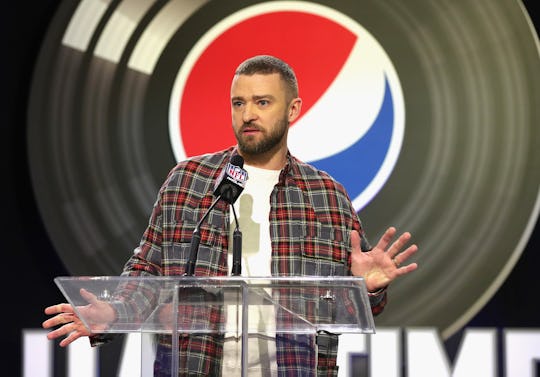 Christopher Polk/Getty Images Entertainment/Getty Images
Justin Timberlake Reportedly Won't Perform With A Prince Hologram At The 2018 Super Bowl
It is Super Bowl Sunday and anything can (and more than likely will) happen. Later this evening, the New England Patriots will face the Philadelphia Eagles — but the real attraction will be when Justin Timberlake performs during the game's halftime show. There have been a lot of rumors surrounding who will perform with Timberlake during this performance, including a rumor that a hologram of Prince would be performing with him, too. But as of Sunday afternoon, Justin Timberlake's Super Bowl halftime show will reportedly won't have a Prince hologram following backlash.
People were not too pleased with the news that Timberlake would perform with a hologram of Prince, to say the least. Prince, who died in 2016, called Minnesota, where this year's Super Bowl is being held, his home. And while the hologram performance might have paid tribute to the artist in his home state, people were not happy, taking to Twitter to share their distaste about the news, according to HuffPost.
But luckily for those fans, Prince's longtime collaborator, Sheila E., denied the rumors on Twitter on Saturday. "Family, I spoke with Justin tonight and he shared heartfelt words of respect for Prince and the purple fans," Sheila tweeted. "I look forward to seeing what I'm sure is going to be a spectacular halftime show. There is no hologram."
Romper has reached out to Sheila E. and Timberlake's management and is awaiting response.
If you're just a *little* confused about what has happened in the past 24 hours with the rumors about the Prince hologram, here is just a little background information to get you up to speed. On Saturday, TMZ got a sneak peek of Timberlake's performance and reported that Timberlake would perform with a hologram of Prince. On top of this, the Minneapolis Star Tribune confirmed with "an NFL source" that Prince would be a part of the halftime performance. To add fuel to this rumor, according to the Minneapolis Star Tribune, Timberlake teased during a press conference on Thursday that his performance would include a few things that "they've never quite done before" at the Super Bowl. A hologram performance would certainly fall into this "never been done before" category.
But according to Sheila E.'s tweet, the Prince hologram appearance is reportedly called off. Prince's good friend and CNN commentator, Van Jones, also tweeted that a hologram of Prince would not be performing during the Super Bowl on Sunday. "There will be NO Prince hologram at the Super Bowl," Jones tweeted. "Which is a good thing." In 1998, according to NME, Prince had expressed his distaste with artist holograms in an interview with Guitar World. So it's probably a good thing, for the legacy of Prince, that the hologram performance doesn't happen.
But because the Super Bowl is happening live (with a bit of delay) there is still quite a bit of time before people really know what will be happening during the performance. There have been so many rumors surrounding Timberlake's halftime appearance that it's a little hard to keep track of them at this point.
Some fans thought that Janet Jackson, who performed during the Super Bowl with Timberlake in 2004, would make an appearance on Sunday. But on Saturday, according to Business Insider, Jackson took to Twitter to shut those rumors down. "To put to rest any speculation or rumors as to whether I will be performing at the Super Bowl tomorrow; I will not," Jackson tweeted.
Others (like myself) hoped that *NSYNC, the boyband whom Timberlake got his start with, would reunite and perform with him at the show. But on Thursday, according to USA Today, Timberlake shut down that rumor himself. Timberlake addressed the very hot topic of his rumored special guests, saying, according to USA Today:
To be honest, I had a ton of grand ideas about special guests... There's a whole list I think Vegas has odds on it, I heard, from *NSYNC to JAY-Z, to Chris Stapleton, to Janet Jackson. But this year, I'm just excited. My band, The Tennessee Kids, they're my special guests, and I'm excited this year to rock the stage.
There you have it. You probably won't be seeing a hologram of Prince, a reunited *NSYNC, or Janet Jackson on stage with Timberlake tonight. But the beauty of live TV is that anything can, and probably will, happen.
Check out Romper's new video series, Romper's Doula Diaries:
Watch full episodes of Romper's Doula Diaries on Facebook Watch.