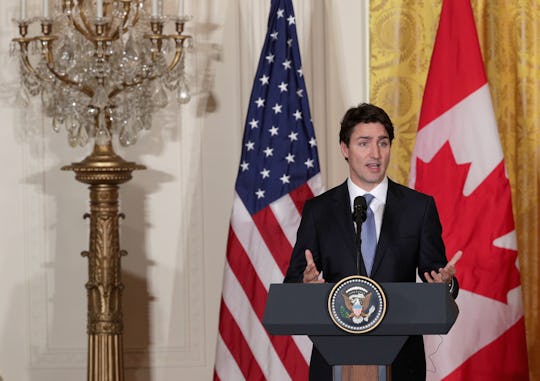 Alex Wong/Getty Images News/Getty Images
Justin Trudeau Built An Awesome Pillow Fort This Week With A 5-Year-Old
Canada's Prime Minister is obviously an accomplished man, but this week he added Best Babysitter Ever to his resume. OK, maybe not the best ever, but definitely the best prime minister to babysit during office hours. This week, Justin Trudeau built a pillow fort with a 5-year-old girl named Bella Moose, and the pictures are proof that Trudeau knows how to party with even the tiniest constituents. Bella won the CBC Kid's Contest to "Be Prime Minister" for the day and when she arrived at the office, Trudeau was tasked with meeting some of her demands. One of which was building a pillow fort.
The pictures on the CBC Facebook page are priceless, and show Trudeau and Bella getting busy rearranging chairs, using couch cushions, and of course, a maple leaf patterned blanket to provide some much needed coverage. Bella looks like she's having the best day ever.
The fort making activity was in line with Bella's values, too. As it happens, she's all about housing. The aspiring politician won the contest by writing into the television channel about what she would do if she ran the country:
As prime minster, I would make sure everyone has homes and everyone is safe. I would hug everyone. I would make sure animals and the world around us are kept safe. I would make sure every Canadian is healthy. I would show kindness to everyone.
Be still, our beating hearts.
Bella didn't stop at a pillow fort, either. The Wapanohk Community School kindergartner told the Thompson Citizen, "I spun around on the chair in his office." As one does. As for the prime minister? "He was awesome," she said.
In all, her trip was pretty magical. Bella was most impressed with a puppet in his office. "I saw a unicorn. It was my first time seeing a unicorn." The Canadian House of Commons is just full of surprises. She also got to "dab" with the prime minister, which hopefully will be included in the CBC special that airs next month documenting her epic day in office. Her mother was amused, too.
Bella's mom, Caelin Webber teaches eighth grade at Wapanohk. "I spend all my time getting my students to stop dabbing and I have a picture of the prime minister doing it." It's not easy to stop eighth graders from doing something the prime minister fully endorses, now is it?
Trudeau is quite the man of his people these days. Earlier this month, he photobombed a bunch of high schoolers on their way to prom. Between photobombs and pillow forts, who knows what's next for the Canadian leader this summer? Whatever it is, we can't wait for it grace our Twitter timelines.