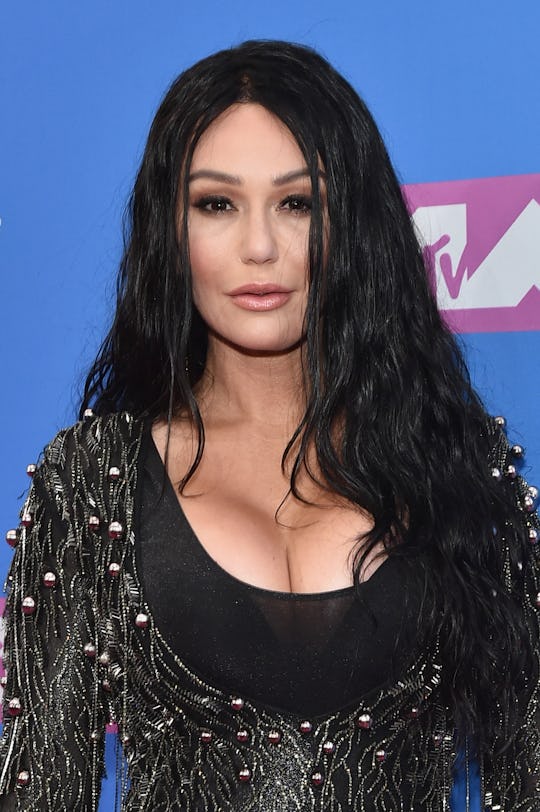 Mike Coppola/Getty Images Entertainment/Getty Images
JWoww Opened Up About Her Son's Language Delay & Fans Were So Supportive
Back in the day, JWoww was just one of the original eight cast members of MTV's Jersey Shore. Fans followed her as she and her housemates partied, hooked up, and dealt with the seemingly never-ending series of drama. Fast-forward nearly a decade after the reality TV show first started, and JWoww is now married and a mom of two. (And she's not the only one who is a parent!) Although cast members' children aren't necessarily a regular part of the show, they have definitely made appearances and have been mentioned along the way. And recently, JWoww opened up about her son's language delay — and fans were so supportive.
If you haven't been able to keep up with the Jersey Shore crew and their growing families, "JWoww" Jenni Farley has two young children with her husband Roger Mathews — Meilani, 4, and Greyson, 2. As E! Online reported, the 32-year-old mom of two revealed on Thursday's episode of Jersey Shore: Family Vacation that her youngest child, Greyson — who had just turned 2 — still wasn't talking. The toddler has been undergoing therapy three times per week as a result.
JWoww took to Instagram following the airing of this emotional revelation to thank fans who had been sending her messages of support, ET Online reported. Along with a photo of herself hugging her little guy, Farley wrote a lengthy caption addressing her son's delay and expressing thanks to those who have reached out to her. "To find out Greyson is 'behind' or 'delayed' crushed me... but only for a moment," she wrote. "That moment came from wanting to have 'perfect children' and 'how could this happen to me?'... but Grey is PERFECT and it CAN happen to anyone." She continued:
I saw that last night when the messages came in by the hundreds. I decided to share that side of my family on Jersey Shore because I want to help anyone going through what I'm going through... I'm sure people need support the way I've needed it.
Fans remained supportive in their Instagram comments to the reality star — and many of them have even been in similar situations with their own children. One of JWoww's followers wrote, "My oldest son didn't say anything until he turned 3. He was in therapy 3x a week and I thought it would never happen. He went to the pre school disabled program through the school district when he was 3 and something just finally clicked and now I can't get him to stop talking. Hang in there mama, you are doing all the right things 💕💕"
Another fellow parent of a child with a speech delay wrote, "You are doing such a great job! I have a son who started speech therapy at 18months. He is now 5 and and I remember feeling defeated. I had a period of time where I grieved for the son I thought I 'should' have and it took a while for me to come to terms with his disability. We are their biggest advocates...keep fighting to get him what he needs...he will do great! 💕"
Yet another Instagram user chimed in with, "My oldest son didnt speak a single word until he was 2.5, after months of intensive therapy. He is a perfectly healthy and on level almost 5 yr old. Keep pushing for therapy and cleaning up his diet. You are a wonderful mama."
JWoww went on to share that Greyson is still in therapy three times a week. Apparently, she has also opted to tweak his diet, cut out "unnecessary preservatives," and have additional testing done in hopes it would help her son. At the end of her message, the devoted mom addressed her little guy directly, writing, "I you ever see this in the future... you're mommy might be a bit crazy, loud and dramatic but when it comes to you and your sister... I will fight for you two until my last breath... and continue to fight for you after death... your mommy will hold your hand and stand by your side for eternity."
For the record, this isn't the first time JWoww has opened up about incredibly personal — and important — aspects of her life. Back in April, she revealed in a heart-to-heart with Mike "The Situation" Sorrentino that she had experienced a miscarriage in 2011 before filming Jersey Shore's fourth season in Italy. "I was a mess in Italy," she told Sorrentino, according to Us Weekly. "Right before Italy, like three or four weeks before Italy, my grandmother passed. And me and Roger actually lost a baby, like, I ended up pregnant. Not a lot of people know."
As the parent of a son who is both intellectually gifted and has been diagnosed with ADHD — or is considered "twice exceptional" — I can definitely related to how JWoww is feeling. It's devastating at first, knowing that something isn't quite right, and then having that confirmed by a medical professional. It's all too tempting to blame yourself for your child not being "perfect" or "normal." But the most important thing parents can do for their children is get them the help they need, so they can be the best versions of themselves. To me, it sounds like JWoww is doing everything within her power to help Greyson succeed. And it's so inspiring that she's shedding light on this common parenting struggle in the process.