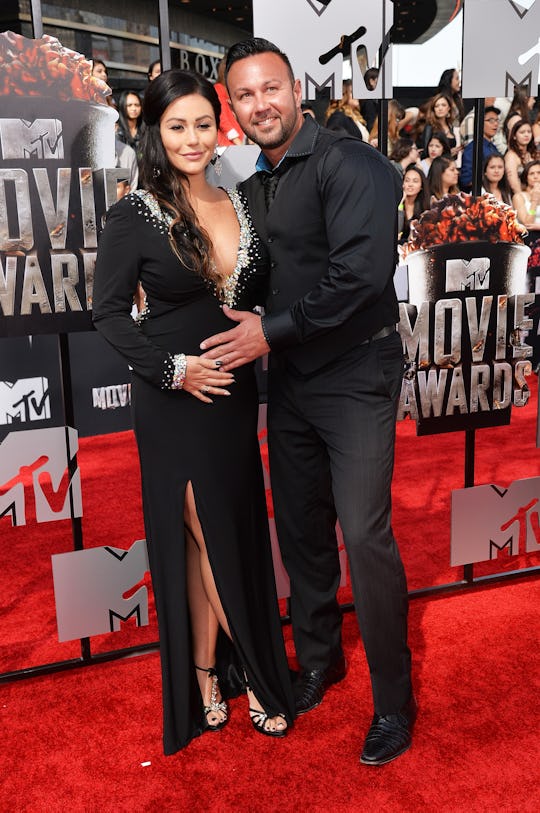 Michael Buckner/Getty Images Entertainment/Getty Images
JWoww Slams Critics Who Say Her Son Wasn't Wearing Sunscreen, Because She Won't Be Shamed
Almost any parent can probably tell you a story of a time a stranger gave them unsolicited and judgmental parenting advice (true story: my husband once got reprimanded by an old lady for having a drink in our stroller's cupholder, because apparently "the cup holder is for the baby"), but the advent of social media and parental over-sharing has turned mom shaming into somewhat of a national past time. The latest celeb victim? Jenni "JWoww" Farley, who provoked the Internet after (gasp) posting a photo of her 9-week-old son Greyson in a pool with his dad, Rogers Mathews, over the weekend. Former Jersey Shore star JWoww slammed critics who said her son needed sunscreen, according to Us Weekly, because she won't stand for Internet mom shaming.
The married mom of two — Farley and Mathews are also parents to daughter Meilani, who turns two on Wednesday — shared a sweet black and white photo of her children snuggling over the weekend, followed by a too-cute shot of her newborn in the pool, being held by his dad. While the tot doesn't look particularly impressed, he does look adorable, wearing a navy blue swim shirt and shorts, with a tiny baby fedora on his head. It's hard to see what could possibly be wrong with that photo, but it didn't take long for the haters to chime in with commentary.
While the overwhelming number of comments left on the pic were supportive, some criticized the couple, saying their child was "too young for a pool," and that Farley needed to put sunscreen on him. While it's not even clear why anyone would assume that she hadn't put sunscreen on her child (I mean, how could you possibly tell that just by looking?), it could be because experts recommend only using sunscreen on babies who are 6 months old or more. According to the Mayo Clinic, babies younger than 6 months should be kept safe with other forms of sun protection, like protective clothing and wide-brimmed hats (which Farley and Mathews were clearly doing). But while she really didn't have to justify herself to her haters (it's not like she was letting her kid sunbathe naked, or forcing him into an impromptu "sink or swim" swimming lesson), Farley followed up the surprisingly controversial pic with another, explaining that she uses a homemade sunscreen concoction on her child.
Not even sure why I am even doing this but I feel like schooling people on my previous post. First off, my son is two months and in a salt water pool up to his belly... Probably for a total of 3 minutes. But second is where I need to really educate trolls... Let me explain to the haters that decided to comment about no sunscreen and the dangers bla bla bla.
My son actually does have sunscreen on. It's the same concept as diaper cream. Probably even better than the crap shit you lather your children in. Remember ass holes im in the tanning industry and pride myself on knowing this.
Farley explained that her DIY sunscreen is a mix of two different oils (coconut oil and carrot seed oil) combined with zinc oxide. And while her son was only out in the sun with his dad for a few minutes, with a hat and swim clothes on, she used it to make sure he had added protection. The irony here though is that while it's still surprising that anyone had anything negative to say about the original photo of Greyson in the pool, Farley's homemade sunscreen actually is controversial, given that dermatologists have specifically warned against DIY sunscreens. In fact, New York-based dermatologist Whitney Bowe told The Daily Mail that "making and using your own sunscreen is 'effectively putting your skin at risk for melanoma.'"
One of the reasons for this? Conventional sunscreen is rigorously tested to ensure their effectiveness. According to Bowe,
Tests are conducted in the lab and on humans to ensure [store-bought sunscreens] provide broad-spectrum protection and that the ingredients remain stable and active when mixed together and exposed to heat and sun.
Furthermore, the use of things like coconut oil in many DIY sunscreens can actually make your sun more susceptible to sun damage (remember the baby oil tanning days of yore?)
While covering up and staying out of the sun is still the best recommendation for infants, anyone considering making their own sunscreen out of concern for toxins or chemicals in store-bought sunscreen needn't worry, as there are plenty of non-toxic, mineral sunscreens available on the market these days (which contain zinc oxide or titanium oxide as the main ingredient).
"There is no reason from a safety, cost, or time standpoint to make your own," Sherry Shieh, a New York-based dermatologist told The Daily Mail.
Of course, in Farley's case, her son was already covered and only out in the sun for a short time, so chances are her homemade cream acted more like a nice moisturizer for her little guy than anything else. And really, it's a shame that what looked like nice family time by the pool had to be interrupted by unwelcome and uninformed commentary. But next time, she might want to stick to store-mineral sunscreen, just to be safe.