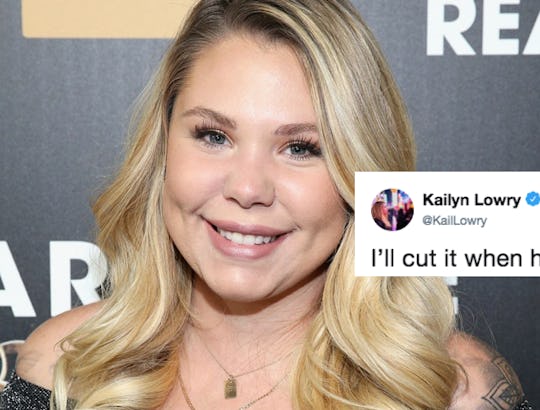 Bennett Raglin/Getty Images Entertainment/Getty Images
'Teen Mom 2's Kailyn Lowry Had The Perfect Response To Someone Shaming Her For Her Son's Hair
One thing I will never understand is why people feel the need to share their unsolicited criticisms about a child's appearance. Not necessarily to the kid's face, per se — but absolutely with backhanded comments to the parents. Maybe it's a little girl who prefers clothing from the boys' section. Or a little boy with an affinity for the color pink. Another controversial point of criticism when it comes to gender norms? The length of a child's hair. More often than not, parents of young boys with long hair are nagged about getting their sons' long locks chopped short. And Kailyn Lowry's response to someone mom-shaming her for her son's hair is the perfect comeback.
If you need a refresher, Lowry's first pregnancy was featured on the MTV series 16 and Pregnant. After the birth of her son, Issac, the teen mom ultimately ended up splitting with his father, Jo Rivera, E! News reported. Lowry went on to have a son named Lincoln with her now-ex, Javi Marroquin. And most recently, Lowry welcomed her third child, Lux, on Aug. 5, 2017, with her now-ex Chris Lopez.
Through the years, Lowry has been a target for criticism for all sorts of reasons — from her becoming a mom at a young age, her relationships, to her weight and body image, to her announcing that she was dating a woman. But when it comes to her children, you sure don't want to mess with Kailyn Lowry.
As People reported, it all started when the Teen Mom 2 reality star shared a sweet photo of her son, Lux, this Sunday on Twitter. Alongside the snap of her youngest child playing with a basketball, the 26-year-old mom of three wrote, "Starting him young."
To be fair, there were a fair amount of followers fawning over Lux's luxurious tresses. One Twitter user commented, "I can't handle all that hair!! My son is 16 months and still a baldie!"
Another follower tweeted, "He has better hair than me! How cute."
Yet another Twitter user wrote simply, "That hair," followed by a face emoji with hearts for eyes.
Still, there's always that one person, isn't there? In a now-deleted comment, a Twitter user expressed that Lux Russell was in serious need of a haircut "unless your goal is to make him look like a girl," People reported. (Hello! This is 2018, in case you hadn't noticed.)
It seems as if this highly insensitive "advice" struck a nerve with Lowry — and she didn't take this nonsense lying down. "I'll cut it when he tells me he wants to cut it," the mama bear shot back. "But you can mind your business lil momma."
Yassss, girl! You tell that mom-shamer.
In case you were wondering, plenty of other parents stepped in to offer moral support by sharing photos of their long-haired little boys. One Twitter user shared adorable shots of her own long-haired little guy, writing, "About to be 3 years old and I still have yet to get his hair cut. He also gets mistaken for a girl all the time, but he absolutely loves his curly hair... and so does everyone else." Just look at those curls!
Another Twitter user chimed in with, "Yesss Long hair, don't care. Whale spouts are life."
And the photos just kept coming ...
Truthfully, these little guys are giving me some serious hair envy. Here's a better shot of little Lux's, just so you can get the full effort of his 'do. (Too cute!)
By the way, the archaic notion that "boys should have short hair and girls should have long hair" is total BS. Why should a person's sex determine the style of hair he/she has? Or the style of clothing they're limited to wearing? If parents want to cut their baby's hair, then more power to them. But little Lux is only 7 months old — and if his mama wants to hold off on a haircut until he's able to express that's what he wants, then more power to her. Because newsflash: Random strangers have absolutely no say. So keep your gender-stereotyping comments to yourself.
Check out Romper's new video series, Bearing The Motherload, where disagreeing parents from different sides of an issue sit down with a mediator and talk about how to support (and not judge) each other's parenting perspectives. New episodes air Mondays on Facebook.