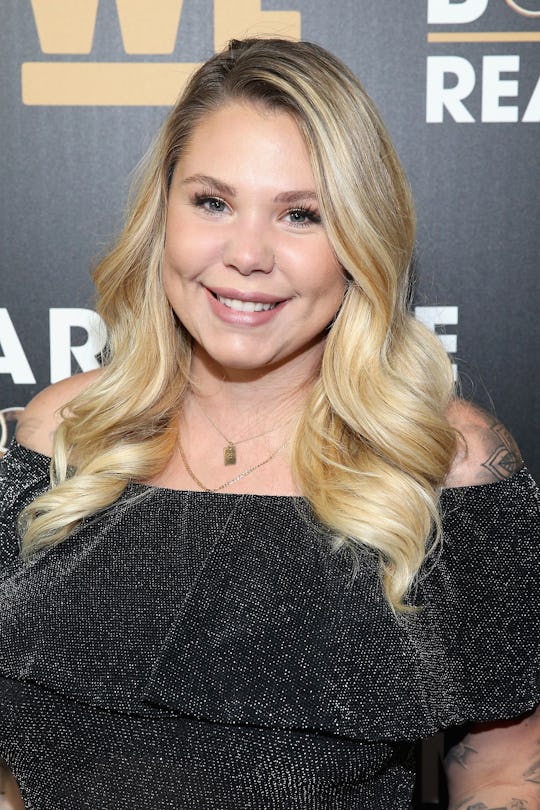 Bennett Raglin/Getty Images Entertainment/Getty Images
Why Kailyn Lowry Was Scared She'd Give Birth On An Island Weeks Before She Was Due
Being pregnant is a wonderful and magical time, but it's also pretty... unexplainable sometimes. There's a new mix of worries, fears, and weird changes that happen to a woman's body. And don't worry, all of these things are always on an expecting mother's mind. So when something doesn't feel right, they take notice. Which is exactly what Teen Mom 2 star Kailyn Lowry did when she thought she'd give birth on an island weeks before she was due to deliver her third child.
On the latest episode of Teen Mom 2, Lowry had decided to take a family vacation to Saint Thomas as a way to spend time with her two other children before her youngest arrived. But, she soon began to feel certain symptoms that lead her to believe that she might be suffering from preeclampsia, a potentially dangerous pregnancy condition that could have made her deliver her baby earlier than planned on the island.
Speaking to producers for the MTV show, the 25-year-old said, "Now I'm nervous," referring to her rapidly swelling hands and feet, according to People. "They never swelled before this. What if I have preeclampsia? I'm just saying, they would have to induce me." And truly, preeclampsia is no joke, so Lowry's concern was totally valid.
Fortunately, Lowry was able to see a doctor at a local emergency room and was declared healthy enough to travel back home. But, the situation must have been terrifying for her, considering she was in a new place, and the father of her baby, Chris Lopez, wasn't acknowledging her messages, as Us Weekly reported. Still, though, preeclampsia isn't anything to take lightly. According to the Preeclampsia Foundation, the condition affects at least 5 to 8 percent of all pregnancies, adding:
It is a rapidly progressive condition characterized by high blood pressure and the presence of protein in the urine. Swelling, sudden weight gain, headaches and changes in vision are important symptoms.
So, Lowry's swelling was in line with the symptoms of preeclampsia, and her fear of having to deliver early, as she was only 35 weeks along when the episode was filmed, was also valid. As many will remember, Kim Kardashian struggled with two complicated pregnancies before reportedly deciding to have her third child, reportedly via surrogate, according to People. Kardashian suffered from preeclampsia during her pregnancies as well, as she's opened up about on both her blog and on Keeping Up with the Kardashians.
On her blog, Kardashian described the fear surrounding her first diagnosis of the condition:
Often, the only way to get rid of it is to deliver early to protect yourself and the baby ... It causes your body and face to swell, and that was very uncomfortable for me. I had early-onset preeclampsia and I had to deliver at 34 weeks, almost six weeks early.
For Lowry, though, her swelling luckily turned out to be nothing serious, and she was even able to crack a few jokes while going through this scary episode. "Imagine giving birth and there's still sand on my feet from the beach," she joked, according to People. Because clearly, even though tensions might be running high, laughter will always be the best medicine.
And after Lowry was cleared from the hospital, according to People, she was able to go enjoy some quality time with her sons. Nevertheless, Lowry did the right thing in going to see a doctor. Preeclampsia can lead to serious issues if left untreated, and as Kardashian wrote, the only real treatment is to deliver, even weeks early.
Although preeclampsia is rare in the United States, Lowry's scare is still worth talking about since her story could inform other women about the signs of this potentially dangerous pregnancy complication.
Watch Romper's new video series, Romper's Doula Diaries:
Check out the entire Romper's Doula Diaries series and other videos on Facebook and the Bustle app across Apple TV, Roku, and Amazon Fire TV.