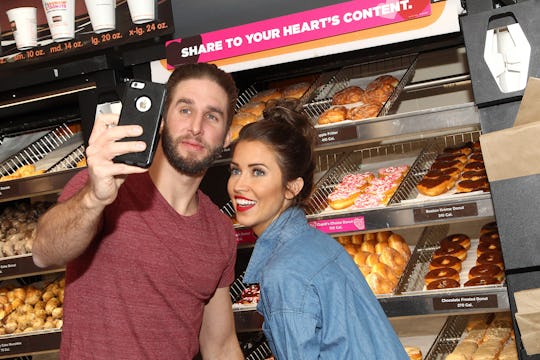 Tommaso Boddi/Getty Images Entertainment/Getty Images
Kaitlyn Bristowe Opens Up About Freezing Her Eggs
Anyone who's ever been engaged can likely relate to the fact that, almost immediately after you announce the big news, friends and family will start to ask you about when you're planning on having kids. It can be intrusive and annoying, especially when you're not quite sure what your plans or options are. Which is why it's refreshing to hear The Bachelorette's Kaitlyn Bristowe open up about freezing her eggs. The 31-year-old revealed last week that she was freezing her eggs with Ova Egg Freezing, where fellow Bachelor Nation alum Whitney Bischoff works.
"I think a lot of women feel pressure to have kids, especially when you get engaged," she said on Good Morning, America Wednesday morning. "And for me, I'm like, I don't want that pressure on myself. This is kind of a backup plan for us and for us to feel comfortable. It's kind of like insurance."
Bristowe had posted a picture of herself at the clinic with Bischoff about two weeks ago and a savvy fan tweeted at her, wondering if she was pregnant. She wrote that she was giving her eggs to Bischoff to "babysit." Bristowe told another fan on social media that it was a liberating experience. "I'm taking control of my future! As a woman there's always pressure to have babies, and this puts my mind at ease for when IM ready," the former Bachelor contestant said.
She finally went through with the egg retrieval procedure last week and fiancé Shawn Booth posted a picture of her sleeping afterwards. And Booth was pretty impressed with everything that Bristowe went through to retrieve her eggs for their future too, writing in the caption,
Always impressed by her strength & courage, but even more so after these past few weeks! Very proud of her for taking control of our future and continuing to empower others!
Booth joked on Wednesday that they do eventually want a big family, and even alluded to wanting as many as five children. "But we'll talk after we have one, " he said. Bristowe agreed that the couple are definitely in this together, though they haven't yet set a wedding date.
Bristowe isn't the only Bachelor Nation alum to turn to Ova Egg Freezing and Bischoff to "babysit" their eggs. Carly Waddell, who won last season of Bachelor in Paradise and is engaged to Evan Bass, has also frozen her eggs through the clinic, along with Andi Dorfman.
Back in the day, Bachelor contestants used to take advantage of their newfound fame and platform to promote dieting teas and hair products. It's kind of cool to see them talking about women's reproductive health, and being so open about fertility and family planning instead (though, to be fair, there's absolutely nothing wrong with loving tea and a great blowout). Of course, egg freezing in't an option for everyone, but these women are lucky be able to take advantage of it and help all of Bachelor Nation learn about it in the process.