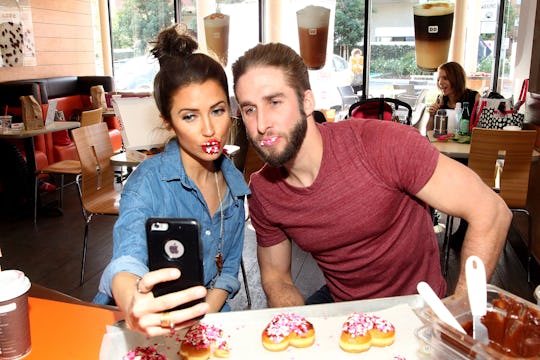 Tommaso Boddi/Getty Images Entertainment/Getty Images
Kaitlyn Bristowe Explains Why She Froze Her Eggs
More and more young women are choosing to freeze their eggs for a variety of reasons, including former star of The Bachelorette Kaitlyn Bristowe. Perhaps these women are focused on their careers right now. Or maybe they haven't met the right person to enter the parenthood chapter of their lives with yet. Or it could be an entirely different reason that she's chosen to preserve her fertility for when she's ready. It's not always black and white, but Kaitlyn Bristowe's quotes about egg-freezing perfectly explain why it was the best decision for her and her future.
For the 31-year-old former reality star and fiancé Shawn Booth, whom she met on her season of The Bachelorette, they hope to have many children together one day. So it's not necessarily a matter of "if" it will happen for them, but rather "when" they will be ready to start trying to have a baby. Bristowe has recently opened up about her decision to freeze her eggs and she's explained that it's because she doesn't not be pressured to start a family, whether it be from societal expectations or her age. (Women's fertility begins to decline typically around 30 years old and the older women get, the more difficult it can be to get pregnant.)
There are a lot of reason why women choose to have this procedure done, which isn't exactly a walk in the park. Like with most medical procedures, there are risks associated with egg retrieval and women can experience cramping and feelings of fullness or pressure after the procedure, according to the Mayo Clinic. So it's certainly not a spur-of-the-moment decision but for those who choose to freeze their eggs, it's seems like it's a fair trade.
These quotes from Bristowe explain why egg-freezing was right for her future:
It Puts Her Mind At Ease
The Bachelorette alum tweeted that she's "taking control" of her future by freezing her eggs. "As a woman there's always pressure to have babies, and this puts my mind at ease for when IM ready," she tweeted earlier this month.
On Good Morning America, Bristowe emphasized again how freezing her eggs has alleviated a sense of pressure that many women experience after they get married or hit a certain age. "I think a lot of women feel pressure to have kids, especially when you get engaged," she said. "This is kind of a backup plan for us and for us to feel comfortable. It's kind of like insurance."
Being Able To Set The Pace Of Her Future
People are allowed to change their minds and that's what the beauty of egg-freezing has given so many women, including Bristowe. Just last year, for instance, Bristowe told People that she and Booth were excited about expanding their family, even more than getting married. "We know we're going to get married, but we're really pumped to start a family! I don't feel like there is a specific order we have to go in," Bristowe told People last February.
While they're both clearly still very excited about starting a family one day, freezing her eggs has given them the ability to do it at their own pace. And her other half seems to be on the same page when he posted a photo of Bristowe sleeping on his lap after the egg retrieval procedure. "Very proud of her for taking control of our future and continuing to empower others!" Booth wrote on Instagram.
Bristowe's reasons for freezing her eggs are relatable for so many women who also want their hit snooze on their biological clocks for now. And her openness serves as a reminder that women can do this and they can take control of their reproductive choices.