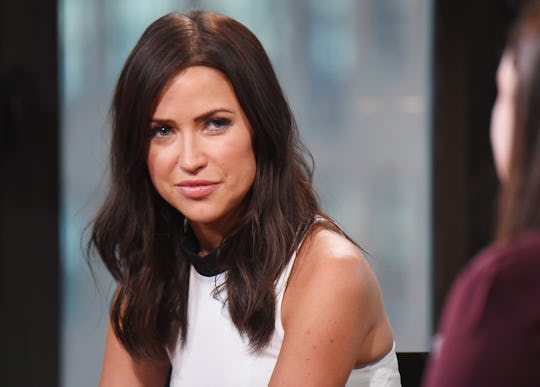 Michael Loccisano/Getty Images Entertainment/Getty Images
Kaitlyn Bristowe's Quotes On Pregnancy Are Empowering
More women are freezing their eggs, and a former star of The Bachelorette is taking some of the stigma off of the decision. Kaitlyn Bristowe has opened up about her desire for a family, and why she chose to freeze her eggs. Here are some of Bristowe's most awesome quotes on pregnancy.
Bristowe has dealt with a number of pregnancy rumors before, but now she's taking the story into her own hands by sharing her experiences about freezing her eggs. The 31-year-old former The Bachelorette lead, who got engaged to her pick Shawn Booth during her season's finale, has taken to social media to discuss her decision. A woman choosing to freeze her eggs is no light matter, especially given how expensive the process is. So it's great that Bristowe is shedding light on the process.
Booth told Good Morning America they often say they want five kids. Hopefully, Bristowe froze enough eggs, because the odds of having three children with 18 eggs stored at the age of 35 decreases to just 15 percent, Today reported, using data from Shady Grove Fertility Center. The odds are much better for a woman who wants one or two kids: she has a 70 percent chance of having one child, and a 40 percent chance of having two children.
The American Society of Reproductive Medicine recommends egg-freezing for women going through chemotherapy because they have a high risk for infertility, and women with genetic mutations. There has long been an association that couples who freeze their eggs or go through in vitro fertilization are not healthy, but Bristowe has made it clear that that's not why she's decided to undergo the process. Here are other reasons why egg-freezing has become popular among some women:
Taking Control Of Your Future
"I'm taking control of my future!" Bristowe wrote on Twitter on March 10. "As a woman there's always pressure to have babies, and this puts my mind at ease for when I'M ready." On Good Morning America, Bristowe emphasized that she and Booth weren't experiencing fertility problems and instead made the decision to freeze her eggs as "insurance." She added: "This is kind of a backup plan for us, and for us to feel comfortable."
The Freedom To Change Your Mind
A year ago, Bristowe told People that she and her husband couldn't wait to have kids. "The idea of family is more exciting to us than planning a wedding," Bristowe said. "We know we're going to get married, but we're really pumped to start a family! I don't feel like there is a specific order we have to go in." But now, it seems the couple has decided to slow things down.
Taking Off The Pressure To Have Kids Before You're Ready
"I think a lot of women feel pressure to have kids, especially when you get engaged — "When's the wedding?" and "When are you gonna have babies?" Bristowe told Good Morning America. "And for me, I'm like, I don't want that pressure on myself."
And of course, having a supportive partner is an important part of being able to make a decision like this. "I think Shawn's role in this was, I mean, it was crucial for me," Bristowe said on Good Morning America. "I don't know what I would have done without you."
Bristowe's candid take on women taking control of their reproductive choice and future's is much-needed and very welcome.