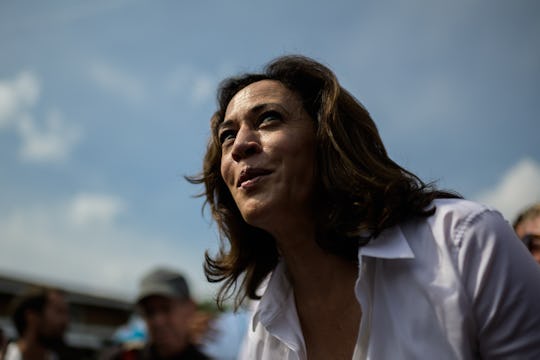 The Washington Post/The Washington Post/Getty Images
10 Quotes From Kamala Harris That Show The Lasting Impact Her Mom Has Had On Her Life
If you've been paying attention to the 2020 presidential race, you may feel that you know Kamala Harris' mother almost as well as you know the Democratic VP nominee. Whether it's in interviews, on social media, in her memoir, or in speeches delivered on the campaign trail, Harris speaks regularly about her mother. In fact, quotes from Harris that center around her mother show just how much of an inspiration the India-born single mother was to her.
In her maiden speech on the Senate floor in 2017, Harris was quick to express gratitude for her mother, a woman she has regularly credited with shaping her into the woman she is today and instilling in her the spirit of a fighter. It wasn't the first time Harris had invoked the memory of her mother, Shyamala Gopalan Harris, and it certainly wouldn't be the last. In fact, Harris discussed how it was her mother who inspired her to seek public office in her first public address since being named former Vice President Joe Biden's running mate.
Harris' mother was a breast cancer researcher from India's southeastern state of Tamil Nadu who initially came to the United States to attend the University of California, Berkeley, according to The San Jose Mercury News. After meeting Harris' father while attending protests as a student, Gopalan Harris opted to stay in the United States upon graduation. She raised Harris and her younger sister Maya as a single-working mother following her divorce and has been credited with shaping the California politician into the fighter she is today. Sadly, Harris' mother passed away from colon cancer in February 2009.
As Harris continues to hit the campaign trail with Biden, here are 10 quotes that showcase the 2020 Democratic VP nominee's admiration for her mother: