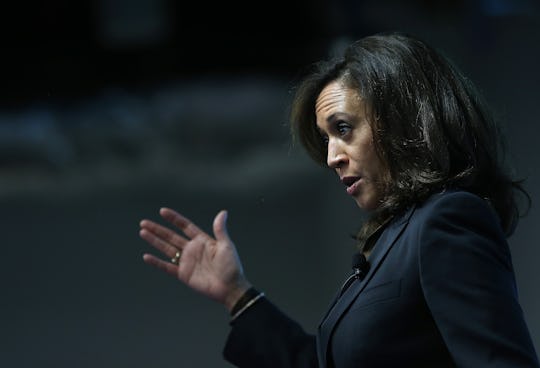 Justin Sullivan/Getty Images News/Getty Images
Kamala Harris' Senate Win Is A Major Victory For Women & People Of Color
As the national race for president seemed to take a bad turn for the futures of women and people of color, there was reason to celebrate. In California, Kamala Harris' senate win is a major victory for marginalized populations both in her state and across the country.
During her campaign Harris, the California's attorney general, squared off against Loretta Sanchez, a congresswoman from Orange County. Interestingly, both were Democratic candidates, thanks to California's top-two rule, which allows the state to move forward without primary elections for races other than that for president. So, although it was clear early on that a Democratic woman would assume the office, what wasn't clear was who it would be. That was until Election Day when Harris earned a decisive victory with a near 2-to-1 margin over Sanchez with essential precincts reporting. It is also hugely historic, as Harris is only the second black woman elected to serve in the U.S. Senate, after Carol Moseley Braun, who served in the 1990s. (Harris has Indian and Jamaican heritage.)
With that, it was also a victory for women and people of color all around the country. Not only does Harris represent the kinds of positions that matter to our rights — such as access to abortion, improved family leave and equal rights for all — but she is also providing essential representation in Congress. Before this election, black women made up just 3.4 percent of the members of Congress.
Harris' election contributes to the growing diversity among members of Congress: According to a 2015 report from the Pew Research Center, one-in-five members of Congress was a racial or ethnic minority, at least in part. Although that is better than ever before, it is still lagging behind the national demographic breakdown.
Even though she is celebrating a personal victory tonight, Harris will have to begin gearing up for a lot of work starting tomorrow — especially as it seems the opposing party of Republicans will maintain the majority in the Senate after this election.
Meanwhile, it becomes apparent that Donald Trump, a man who has publicly directed hateful terms at women and minorities, will win the presidency. That makes the role of Harris and her counterparts in Congress all the more vital for our collective future.
Every person who is willing and able to fight the good fight matters, especially when we are able to refer to them as Senator Harris.