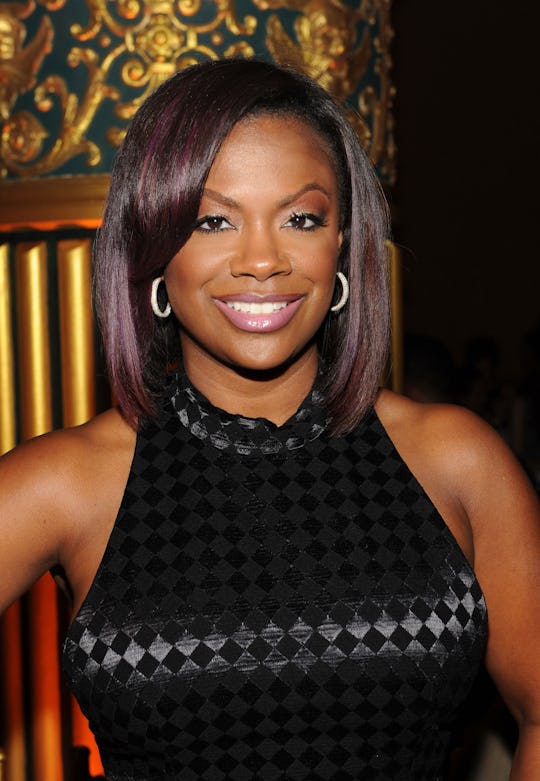 Craig Barritt/Getty Images Entertainment/Getty Images
Kandi Burruss' Potty Training Throwback Advises Parents To Start Young
The Real Housewives of Atlanta star Kandi Burruss knows what's up when it comes to potty training. The reality TV mother recently shared an Instagram throwback that proved she's got a good system going: In Burruss' potty training picture on Instagram, she advised other parents to start young with their own kids. In the shot, Burruss — clothed in a bathrobe — proudly beams at the camera while her daughter, Riley, uses the toilet.
"#TBT when @rileyburruss was a baby I started potty training her early," Burruss captioned the shot of her now 14-year-old daughter. "This is her using the potty at 9months old! Now it's Ace's turn to learn."
Burruss' son, Ace Wells Tucker, is now nearing the 9-month mark, having been born Jan. 6 to Burruss and her husband of two years, Todd Tucker. (Riley, the subject of Burruss' original potty training experiment, was born over a decade ago to Burruss and her ex, Russell Spencer.)
Ace has been learning how to use the toilet for a while now, too. Four months ago, Burruss and Tucker were already uploading pictures and videos of Ace being potty trained, which they received a bit of backlash for (which, hey, surprised no one —another day, another parenting debate, right?). But Burruss swears that starting potty training young has been great for her two children.
"I know a lot of people are gonna talk trash because we have #Ace on the potty already but I did the same thing with @rileyburruss," Burruss wrote on Instagram. She then proceeded to break down her method (in case any parents out there are interested in trying the same approach):
I bought the baby toilet seat that fits on top of the toilet & for the past week we've been putting Ace on the toilet in the mornings. As soon as we sit him up there he pees. One time he pooped & peed. It helps to get them used to the concept early. I don't expect him to be fully potty trained early but it does help. I've done it before so I'm speaking from experience. I'm not saying it will work for anyone else but this works for us. Today I didn't get the diaper off quick enough & he started going as soon as I sat him on the toilet! He got me!
Parenting methods differ widely among parents, but I'm all for any techniques that minimize diaper changing — and that give the public more baby pictures of Burruss' adorable kids.