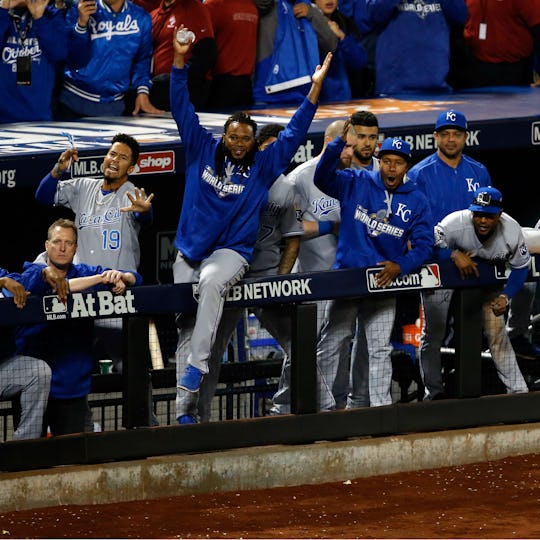 Sean M. Haffey/Getty Images
Kansas City Royals Clinch World Series, & You Can Bet These Babies Are Celebrating Hardcore Right Now
Game 5 of the World Series came to an amazing end last night for the Kansas City Royals, who managed to come up from behind and overcome a two-point lead by the Mets at the top of the ninth inning, tying at 2-2. But by the end of the 12th, the Kansas City Royals had won the World Series, beating the Mets in a crushing (and honestly, kind of embarrassing) 7-2 blow. The win largely came thanks to Jarrod Dyson, who scored off a hit by Christian Colon. Next, Alcides Escobar hit a double down the third base line, hit a double down the third base line allowing Colon to score. In the end, it was Lorenzo Cain who won the game, hitting a double that brought home Paulo Orlando, Escobar and Ben Zobrist.
For the Royals, whose last World Series win was back in 1985 when they defeated the St. Louis Cardinals, last night's victory was a long time coming. Needless to say, Royals fans were erupting in screams of joy in living rooms and sports bars everywhere, and unleashing their unabashed excitement all over Twitter last night. Even some kinda famous fans: 
...Some other kinda famous ones, however, : 
But let's be honest, the best sports fans are often the tiniest ones — decked out in their team colors, cheering on their favorite players, and... OK, so maybe they have zero clue what in the world is going on, or why everyone keeps shouting for dear life at the TV, but hey, they're adorable. Thanks to Twitter for providing us with these insanely cute little fans, in all their blue-and-white glory:
Of course, for the Mets — a team that hasn't seen a World Series game themselves in over 30 years  — the loss was pretty devastating. For all the Mets fans out there who either sat weeping, face in hands last night, or consoling a significant other who was (*raises hand*), I feel your pain. But chin up, guys — there's always next year. And considering the Mets' first two games of the 2016 season are against the Royals, they should use the off season to regroup, and come back hitting even harder.