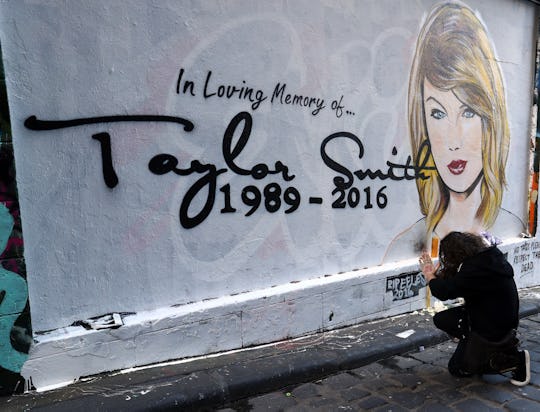 Robert Cianflone/Getty Images Entertainment/Getty Images
Kanye Responds To The Taylor Swift Phone Call Scandal, & He's Not Backing Down
In the latest development of the nearly seven-year feud between Kanye West and Taylor Swift, the rapper is showing gratitude for his wife, Kim Kardashian, and her social media savvy. At Drake and Future's Chicago concert on Wednesday, according to Entertainment Weekly, surprise guest Kanye responded to the Taylor Swift phone scandal briefly before performing "Famous," the song that reignited the animosity between the two stars. "All I gotta say is, I am so glad my wife has Snapchat," he told the crowd in Chicago. "And now y'all can know the truth. And can't nobody talk sh*t about Ye no more."
The static started at the 2009 MTV Video Music Awards, when Swift was just 19 years old. By that time, Kanye was already famous for making public scenes. At the 2004 American Music Awards, he stormed out when he didn't win the best new artist category. In 2005, he famously accused then-President George W. Bush of not caring about black people during a live Hurricane Katrina benefit. In 2006, he stormed the MTV European Music Awards stage because he didn't win Best Video. And on and on. But his best known tantrum is probably still the "Imma let you finish" scene with Swift.
Since the 2009 incident, there's been a lot of back and forth. West finally apologized to Swift a year later, with a series of Tweets. Swift appeared to accept the apology, based on a couple of lines from her 2010 song, "Innocent." During the chorus, she sings, "32, and still growing up now/Who you are is not what you did" (West was 32 at the time of the VMA incident). The hatchet seemed to be pretty well buried after that, and Swift even made a cheeky reference to the original issue when she presented West with the Vanguard Award at the 2015 Grammys. He even sent her a weird cube of roses a few days later.
But that all changed with the February release of West's song, "Famous," which features the lyrics "I feel like me and Taylor still might have sex/Why? I made that bitch famous," as well as an accompanying video that features a realistic wax replica of Swift (among others) naked in a bed. West said he'd gotten Swift's approval for the lines, but Swift denied it. Months of sniping ensued, West's wife and Swift's brother got involved, and everyone picked a side. In a June GQ interview, Kardashian insisted that she had video footage of Swift giving West permission to use the lyrics. Swift's reps once again denied the story. Then, last week, Kardashian released some (edited) video footage on Snapchat that appears to depict Swift agreeing to the line "I feel like me and Taylor still might have sex."
However, there doesn't seem to be any mention of the "I made that bitch famous" line, and in a statement released via Instagram, Swift claimed that she'd never heard that lyric, and wouldn't have approved it if she had. America is now divided between those that think West is lying, those that think Swift is lying, and those who think it's a just a big misunderstanding (just kidding, absolutely nobody is giving both artists the benefit of the doubt).
There are many lessons to be learned here, about trust and friendship and forgiveness, but until it's all sorted out, it's hard to parse them. There is one thing that we should all take away from this, though, that honestly should have been apparent years ago: Kim Kardashian films everything.