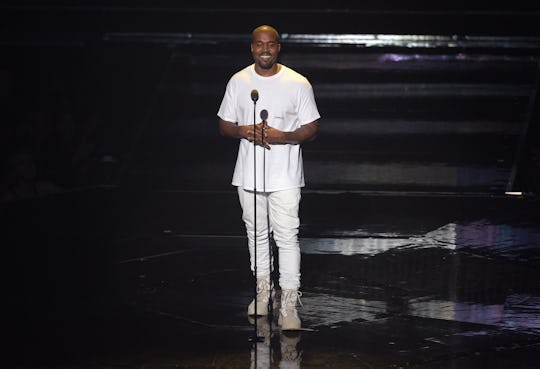 Jason Kempin/Getty Images Entertainment/Getty Images
Kanye West Calls out Amber Rose During His VMAs Speech Along With Everything Else
Kanye West was given four whole minutes by MTV to do whatever he wanted on Sunday night and he did it all. Along with premiering a new video, Kanye West called out Amber Rose in his VMA speech and it was just a tiny bit awkward. Then again, a lot of things are awkward when it comes to Kanye. Watching Kanye West, with all due respect for the man, is always a little bit like watching a good friend drink too much at a wedding she didn't really want to go to in the first place. Anything can happen.
Before premiering his new video, Kanye used the time to talk about a a lot of things, some more intelligible than others. One of the major highlights was, while talking about being an artist and his "Famous" video, he said, "I put Ray J in there... I see you Amber," with a little smirk. It was weird.
If you've been actively living your life for the past 10 years and aren't up on Kimye History, you might have missed it. But Kanye basically called out his ex-girlfriend (Rose) for dating a man (Ray J) that his wife (Kim) made a sex tape with. Yea, it was like that.
Kanye bragged about the video, that included mannequins of famous celebs, like Taylor Swift, with whom he has also gone back and forth. "For people to understand just how blessed we are, it was an expression of our now, our fame right now, us on the inside of the TV," he said.
Before introducing his new video, West said:
Tonight, we are to have fun. I'm standing in front of my idol Puff Daddy. I'm standing in front of my wife, Kim Kardashian West. I'm standing in front of the future, Chance the Rapper. 2 Chainz, Jaden Smith. We are undeniably the influencers, the thought leaders. I'm gonna play y'all a piece of my art. Enjoy that. Play that.
Everyone involved seem to be OK with the shout out in his VMA speech. Kim sort of just laughed and rolled her eyes (because she probably listens to this kind of Kanye rant everyday). Amber Rose laughed, too, which is a classy move, since her and West used to go at each other, publicly, while they were dating and breaking up. It wasn't always pretty. But it looks like all of that is behind West and Rose.
Some celebs keep their personal and professional lives separate. With Kanye, that never seems to be an issue.