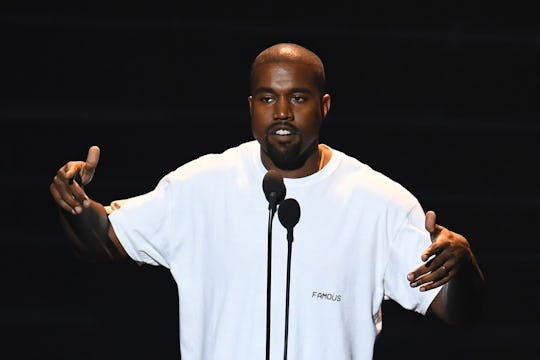 JEWEL SAMAD/AFP/Getty Images
Kanye West Calls Out Hillary Clinton, Beyonce, & Jay Z, & Everyone Is Confused
Kanye West has found himself in the news again, shortly after telling fans at a Saint Pablo show in San Jose, California that, if he had voted in the election, he would have voted for President-elect Donald Trump. This announcement startled many of his fans, with some taking to Twitter to share their disappointment. The rapper opened up to concertgoers again on Saturday night, leaving fans more perplexed than ever. West called out Hillary Clinton, Beyoncé, and Jay Z in a bizarre rant that left everyone confused.
This isn't the first time West has used his concert stage to call out his friend and frequent collaborator Jay Z. After his wife's harrowing armed robbery in Paris, West called out Jay Z for not calling to check in. The "Famous" rapper claimed their kids have never played together and that there would not be a "Watch The Throne 2." This time, though, he called out Jay Z and Beyoncé over an alleged personal feud rooted in music industry politics. According to Entertainment Weekly, at his performance in Sacramento on Saturday night, West vented to the crowd about the rift between himself and the power couple:
You know I got the vision, and you know I'mma keep it real with you. Beyoncé — I was hurt… because I heard that you said you wouldn't perform unless you won Video of the Year over me and over 'Hotline Bling. In my opinion — now don't go dissing Beyoncé, she's great. Taylor Swift is great. We are all great people. We are all equal — but sometimes we be playing the politics too much and forget who we are just to win. F— winning, f— looking cool. F— looking cool. F— being cool. F— all that, bruh.
West continued his rant, informing his fans that he was sent there to "give y'all my truth even at the risk of my own life, even at the risk of my own success, my own career. I've been sent here to give y'all the truth." He brought Jay Z up yet again, imploring the rapper to call him. "You still ain't called me. Jay Z, call me, Jay Z — I know you got killers. Please don't send them at my head. Just call me. Talk to me like a man."
West then brought Hillary Clinton in to the rant, calling his Saint Pablo Tour the "most relevant thing happening. If your old ass keeps following old models, you'll be Hillary Clinton." According to The Sacramento Bee, he went on to tell the crowd he was on his "Trump sh-- tonight." (I don't know about you, but I'd rather be Hillary Clinton any day.)
Prior to his long winded rant, West managed to play only three songs at the Sacramento concert stop before declaring the whole thing over. His total time on stage added up to about 30 minutes. His fans reportedly left angry and confused after paying high prices for tickets.
Nobody mentioned in West's rant has publicly responded to the rapper's comments. Here's hoping Beyoncé drops a Lemonade-style surprise album about it.