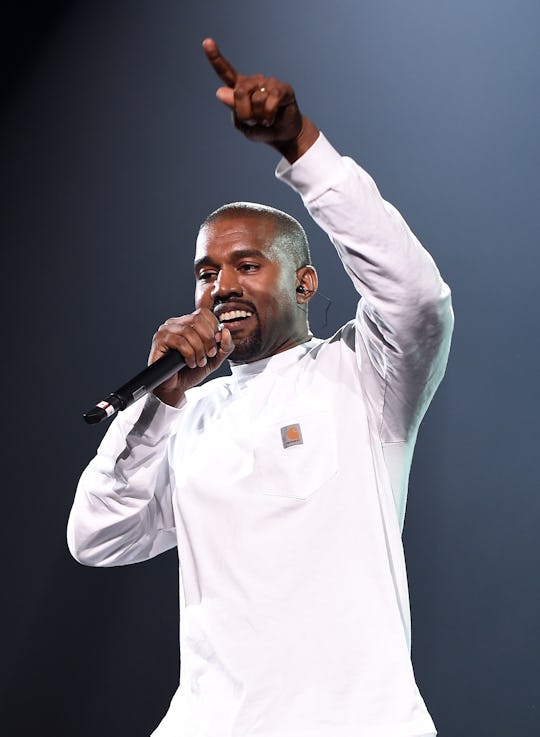 Dimitrios Kambouris/Getty Images Entertainment/Getty Images
Kanye West Confesses He Would "Smash" His Four Sisters-In-Law In His New Single
On Saturday morning, Kanye West's Twitter followers woke up to a pretty awesome surprise — in the form of a tweet with a link to a new single. Yep, you read that right. On the heels of his full album "YE," which dropped on June 1, fans of the rapper were treated to yet another new song called "XTCY." One verse that stuck out in particular for most listeners had to do with Kim Kardashians sisters, Kourtney and Khloe Kardashian, and Kendall and Kylie Jenner. And let's just say plenty of people are a bit disturbed by these lyrics. That's probably because Kanye West confesses he would "smash" his four sisters-in law in his new single.
As People reported, West retweeted a post on Saturday by DJ Clark Kent — with whom he collaborated for the song. The tweet included a link to the new track, which fans could then download for free. And let's just say West definitely waste any time shocking listeners; because the very first verse went something like this: "You got sick thoughts? I got more of 'em/ You got a sister-in-law you would smash? I got four of them." (Oh yes, he totally went there, guys.) The lyrics continued: "Damn, those is your sisters / You did something unholy to them pictures/ Damn, you need to be locked up/ Nah, we need a bigger hot tub." The cover art for "XTCY," according to Us Weekly, also features a photo of his wife, Kim Kardashian, with her four sisters at Kylie's 21 birthday party Thursday night at a restaurant/lounge in Los Angeles.
The reactions to West's new single were decidedly mixed. Some Twitter users seemed to be all for it — like this person who clearly though "XTCY" was on-fire.
Others? Not so much. "I swear, he has no filter," one person tweeted.
Another Twitter user wrote, "What the hell is wrong with Kanye? Dude your nasty!"
Yet another person tweeted, "Yeah, we get they're all hot, but maaaan! You don't release something like that especially when you have kids with one of them. That's just f*cked up. Keep your fantasies to yourself, you're a dad for cryin out loud!"
In fact, some people could only muster reactions to the song in the form of GIFs.
West's new single comes just days after the rapper discussed some other, ahem, interesting topics during an appearance in Jimmy Kimmel Live! During one segment, West and Kimmel were discussing his "Ye" album, when the talk show host asked if the rapper gets upset at his daughters' future dating lives, Variety reported. "Have your attitudes changed since having daughters," Kimmel asked. "I still look at Pornhub," West answered, to wild applause from the audience.
"Oh, really. What categories?" Kimmel wondered.
"Black on white, obviously," answered Kanye.
West also touched on the subjects of his bipolar disorder, as well as his unabashed support for President Donald Trump — which apparently took several months for the rapper to "stand up and put on the hate," CNN reported. "It represented overcoming fear and doing what you felt, no matter what anyone said," West told Kimmel. "Liberals can't bully me; news can't bully me; the hip-hop community, they can't bully me. Because at that point, if I'm afraid to be me, I'm no longer Ye. That's what makes Ye. And I actually quite enjoy when people actually are mad at me about certain things."
It's worth noting that one of Kimmel's Trump-related questions did leave West speechless. "I mean, you've so famously and so powerfully said George (W.) Bush doesn't care about black people. It makes me wonder, what makes you think that Donald Trump does ... or any people at all?" Instead of answering, West sat in silence for a few seconds before the show went to commercial break, CNN reported. The topic was not readdressed. (Donald Trump, meanwhile, took to Twitter to praise West following his appearance on the show.)
But back to "XTCY." Here's a serious question: Is anyone really that surprised by Kanye West admitting his sisters-in-law are hot? He's not exactly one to be shy about his opinions, after all. ("You can't bully me … I enjoy when people are mad at me," he told Kimmel, after all.) So I'm just going to pretend the whole "smashing" his sisters-in-law was mainly for shock value. Because otherwise, I have a feeling West's confession are going to make family get-togethers with the Kar/Jenners a tad bit awkward from here on out.