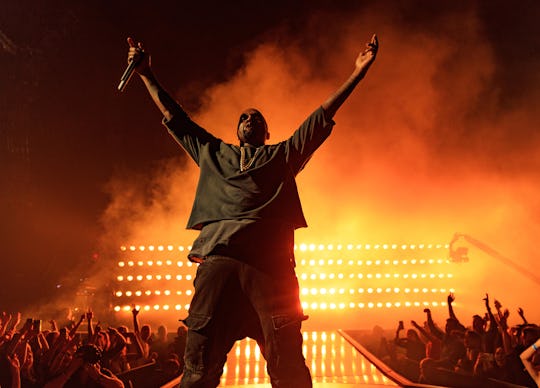 Christopher Polk/Getty Images Entertainment/Getty Images
Kanye West Dresses Up As The Easter Bunny For His Kids & Shows His Soft, Dad Side
Kanye West is famous for his music, but, most recently, for going HAM on Twitter, but the rapper has never been afraid to show his softer side, whether it's gushing over his wife, Kim Kardashian or fawning all over his babies, North and Saint West. Over the weekend, Kylie Jenner's boyfriend, Tyga, and Kanye West dressed up in Easter Bunny suits to surprise the kids, including North and her cousin and BFF Penelope, and the result, like most things across the Kardashian universe, was social media gold.
Sure, plenty of dads get into the spirit of the holidays, but not everyone's dad is like West — famous for his angry outbursts and itchy Twitter fingers. Yes, this is an Easter Bunny who isn't afraid to speak his mind one minute and snuggle with his daughter the next. This side of West is hard not to love.
First, we see West and Tyga come out in their bunny suits giving everyone some pretty fly dance moves. How do we know it's really West and Tyga under all that synthetic fur? Kourtney Kardashian gave us the heads up with her Snapchat caption "Kanye and Tyga the coolest bunnies." Easter Bunnies don't get much cooler than this duo.
North, who is 2 years old, didn't seem fooled by the (slightly terrifying) bunny suit and took a quick sec to snuggle with her sweet dad.
Editor's Note: The Instagram post has since been deleted.
But this Easter wasn't the only time West has made people melt with his mad dad skills. Kardashian has never shied away from gushing about what a great dad her super famous man has become. Check out this cute snap of North sleeping in her dad's arms.
Here's West reading North a book in a hotel on tour, posted by Kardashian with the caption "You're such a good daddy to North & you will be to our new son too!"
And you can tell West's little girl loves him back just as hard. North wants all the kisses from her dad.
North even likes to rock his necklaces.
Here's the very well shod North and West playing footsie in the car.
So, the next time you hear about some craziness from West — which could include Twitter tirades or dropping his latest, unfinished album — remember that he's a pretty adorable dad to his daughter. Sure, he can try and play the tough guy with everyone else.
Because despite all his bluster and bravado, Kanye is obviously killin' it as a dad.
And it's hard not to love a guy who's crazy about his kiddies.