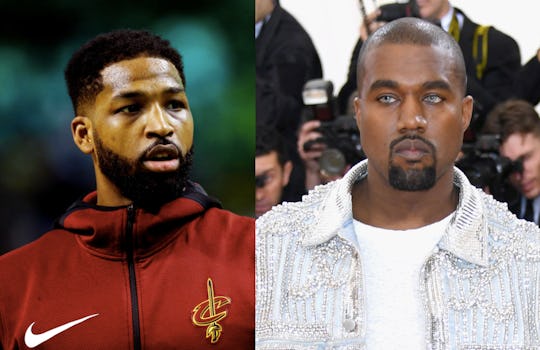 Maddie Meyer/Getty Images Sport/Getty Images; Larry Busacca/Getty Images Entertainment/Getty Images
Twitter Is Freaking Out Over These Lyrics About Tristan Thompson On Kanye West's 'Ye'
Kanye West may have made headlines recently for his sudden, enthusiastic support of President Donald Trump, and for telling TMZ he thought slavery was a "choice," but the backlash hasn't kept him from doing what he does best: releasing new music. On Thursday, the rapper held an exclusive listening party in Jackson Hole, Wyoming for Ye, his first full-length release since he dropped The Life of Pablo in 2016, according to People, and though he has used his new music to offer up commentary on a number of issues, the Kanye West lyrics about Khloe and Tristan in Ye are one element that has everyone talking.
West's new release offers up only seven tracks, but judging by the reaction on social media, listeners are still seriously impressed with what he's shared. Ye touches on a number of topics, including West's struggle with drug addiction and his diagnosis of bipolar disorder, and it also features a number of impressive collaborations — Kid Cudi, Ty Dolla $ign, PARTYNEXTDOOR, and Nicki Minaj all make appearances on the album. But on his track, "All Mine," West actually takes aim at his sister-in-law Khloé's partner, NBA player Tristan Thompson, and says, "All these thots on Christian Mingle/That's what almost got Tristan single/If you don't ball like him or Kobe/Guarantee that bitch gon' leave you"
Even though West definitely isn't the first member of Khloé's family to publicly comment on the allegations that Thompson cheated on her while she was pregnant with their infant daughter, True, he is probably the first to explain it like that. Khloé herself hasn't specifically addressed the rumors, and so far, she appears to be remaining in the Cleveland home the two share together. But while she may be more understanding (or perhaps she's just trying not to concern herself with the drama given that she has an infant to care for), it sounds like West actually takes a similar view of Thompson to his wife, Kim. (Representatives for Thompson and Kardashian haven't responded to Romper's request for comment regarding the allegations of cheating.)
In April, she told Ellen DeGeneres that the allegations against her sister's partner were "so f**cked up," according to E! News, and while she didn't actually go into specifics, West seems to have picked up where she left off, suggesting that the faith-based online dating site may have played a role in his reported infidelity.
Of course, the fact that West also noted that Thompson was "almost" single thanks to his alleged involvement with other women also sounds like confirmation that he and Khloé may actually still be a couple — something that won't sit particularly well with many of her fans, who have continued to roast Thompson on social media for his actions. And, it's even more surprising that West seemed to suggest that Khloé may have otherwise left him if he weren't a famous athlete. Yet, just the fact that West seemed willing to even mention it on Ye was enough to raise some eyebrows on Twitter:
But even if West didn't actually mean that Thompson was literally meeting women on the dating site, it does at least seem to reflect one aspect of why the scandal felt so particularly heartbreaking. After all, not only did it appear that Khloé had found a perfect match in Thompson after her rocky marriage and divorce to Lamar Odom, it also sounded like their Christian faith was a big reason of why she felt so confident about having a child with him in the first place. In Aug. 2017, months before the couple confirmed rumors that they were expecting their first child together, Khloé told You magazine that "everything [they] do is as a union," according to The Daily Mail, and that religion was really important to them. She explained,
Tristan and I are both Christians. We go to church, we pray, we're vocal about God and spirituality. A lot of my girlfriends get pregnant without talking about things such as religion with their significant others and then find they have different belief systems to them.
Though West doesn't even sort of appear to be down for Thompson's actions, he does suggest that he might not entirely disagree with Khloé's apparent decision to stand by him. In "Wouldn't Leave," he gives credit to all the women who have stuck with their men despite their mistakes, and says,
For any guy that ever fucked up (love me or hate me)
Ever embarrassed they girl (love me or hate me)
Ever embarrassed they wife (gone when you miss me)
She told you not to do that shit (ohh)
She told you you's gon' fuck the money up
But you ain't wanna listen, did you?
Keep that same energy
Keep that same energy
Now you testing her loyalty
This what they mean when they say
'For better or for worse,' huh?
For every damn female that stuck with they dude
Through the best times, through the worst times
This for you
It's not yet clear whether Khloé intends to comment on West's new album, though her general silence regarding her relationship with Thompson suggest she probably won't. But even if the line likely won't sit well with his sister-in-law, it does sound likeYe as a whole may have inspired at least a slight change in opinion about the rapper among many of West's fans in light of his seriously-unpopular public comments as of late:
In other words? West's tweets and interviews might get him in major trouble, thanks to his penchant for being a total loose canon with some seriously controversial opinions. But when it comes to releasing new music, there's no denying that the talented rapper knows exactly what he's doing — even when it involves calling out your brand new niece's dad. And although I can't imagine Khloé will exactly be here for it, judging by the reaction on Twitter, it already seems like everyone else is.