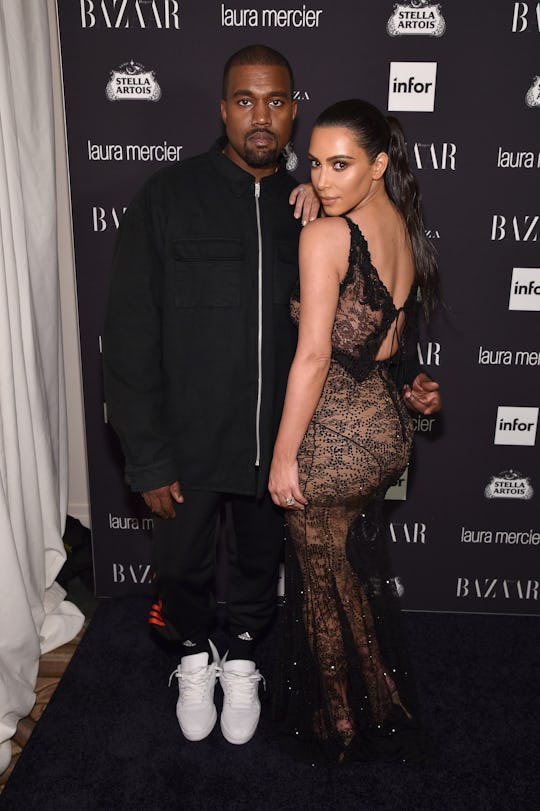 Bryan Bedder/Getty Images Entertainment/Getty Images
Kanye West Posts Adorable Throwback Video Of A Young Kim Kardashian For Her Birthday
Kim Kardashian is a national treasure and should be celebrated daily. She is an entrepreneur, social media star, incredible mother to two young children, devoted wife to her husband — musician Kanye West. However, Oct. 21 is one special day to celebrate Kim Kardashian — it is her birthday. On Twitter, Kanye West posts a throwback video of a young Kim Kardashian and it's basically the most adorable thing you'll see all week.
Since Kim's robbery in a Paris, France hotel she has taken quite a large break from social media and her absence has been felt. Gone are the glamorous Snapchat videos of Kim getting ready or her fun selfies on Instagram. Instead, fans must rely on the other Kardashian family members to get their Kardashian fix (luckily, there are plenty of them). But on Friday, Kardashian fans were able to get their dose of Kim on their social media accounts. Instead of posting a recent photo or video of his wife for her 36th birthday, West shared an old video of the Kim before her recent scandal and before her reality TV fame. The five-minute-long video is one major throwback to the Kim some of us might not know but have definitely grown to love.
Not only is the video a tribute to Kim throughout the ages but a touching tribute to Kim's father, Robert Kardashian Sr. who was able to capture star in a few clips himself before dying of cancer in 2003. The video features happy and personal moments from the young Kardashian family — playing tennis, making silly faces, eating family dinners, and opening presents under the Christmas tree. It shows the awkward moments in life — from Robert Jr. discussing a boy Kim kissed at camp to the bad fashion trends sported throughout the years. But most importantly, the video makes you realize that the Kardashians were a very real family in spite of their fame — and that beneath all of the glamour, at the end of the day Kim is a very real person.
It is unfortunate that Kim has to hide from the spotlight on her 36th birthday. But just because she is away from social media does not mean that people forgot about Kim. Along with West, family members made posts on their social media accounts celebrating Kim's special day. #HappyBirthdayKim was used throughout Friday on Twitter for fans to celebrate their favorite celebrity and wish her a Happy Birthday.
West's tribute was the perfect way to celebrate the celebrity who has been absent from fan's lives, but not from their hearts.