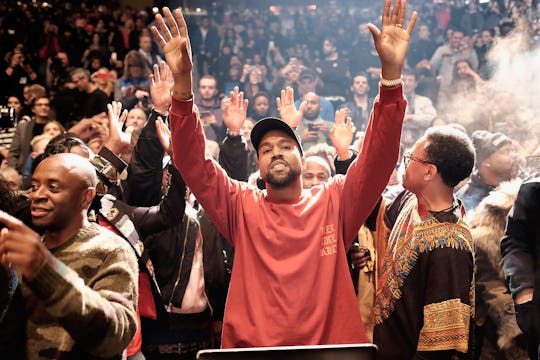 Dimitrios Kambouris/Getty Images Entertainment/Getty Images
Kanye West Releases New Song, "Ultralight Prayer", Just In Time For Easter
Just in time for Easter, Kanye West released a new song off of his Life of Pablo album, titled "Ultralight Prayer." (Well timed, Yeezy — I see what you did there.) Around midday on Sunday, West tweeted a link to the new song on Soundcloud, along with a simple "Happy Easter!" message. For West fans, the arrival of a new, two-minute song by West will make it a happy Easter indeed.
The song sounds like an extended version of the final portion of West's previously released "Ultralight Beam." It features gospel singer Kirk Franklin and R&B singer-songwriter Kelly Price, but it's less heavy on the rap and almost feels like it could have been the ending to "Ultralight Beam." The mix of vocalizing and gospel singing is actually a surprisingly delightful combination.
West's wife, Kim Kardashian, had announced in January (back when Life of Pablo was tentatively titled SWISH) that West would be dropping new music every Friday, a return to his G.O.O.D Fridays tradition. Releasing "Ultralight Prayer" on a Sunday was a new move for West — albeit a sneaky, well-played one. Fans have already weighed in online regarding the new song, and plenty of them mentioned the song's religious aspect, the relative absence of West rapping, and... well, just how much they liked the song.
If you're loving Life of Pablo and hoping for access to the album 24/7 soon, you'll have to hope a little harder (or consider subscribing to Tidal). West recently tweeted that the album will never be for sale — it will only be available on the streaming website West co-owns, Tidal. That's right: if you already have a subscription to Apple Music or Spotify, or you like to buy your music off of Amazon or in stores, you're out of luck.
In keeping with the unconventional release of Life of Pablo, West also recently used his debut of Yeezy Season 3, his fashion line, to play the album for fans. By returning to his G.O.O.D Friday release days, using a fashion show as a listening party, and occasionally surprising fans with new music out of the blue, West has definitely kept fans on their toes — and clamoring for more.
Intrigued by West's Easter surprise? Check out "Ultralight Prayer" on West's Soundcloud, where you can play — and re-play — the song as often as you'd like. For the rest of the album, head over to Tidal.