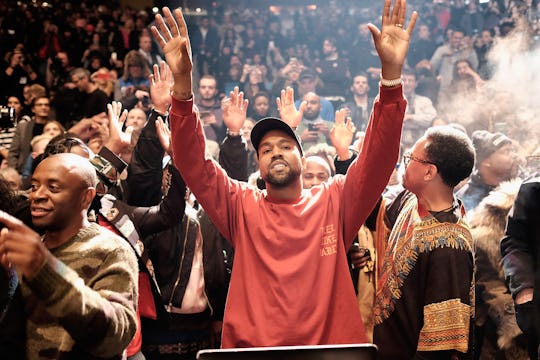 Dimitrios Kambouris/Getty Images Entertainment
Kanye West Says He's $53 Million In Debt & It's Really Hard To Believe
He may be the self-proclaimed "greatest artist of all time," but in a string of truly bizarre tweets posted Saturday, Kanye West said he is $53 million in debt, according to The Guardian. The revelation came towards the end of what was a pretty big day for the rapper: his long-awaited new album, The Life Of Pablo, was finally released (on music streaming site Tidal, exclusively), and he also made an appearance on Saturday Night Live. But his comments — posted to Twitter just before going on SNL, according to CNN — might have been the most memorable part of the night. West wrote, "Let's dance in the streets. I am consumed by my purpose to help the world. I write this to you my brothers while still 53 million dollars in personal debt... Please pray we overcome... This is my true heart…."
Pretty much all of Twitter seemed thoroughly confused by his message, but things only got weirder from there. West then tweeted a plea to Facebook founder Mark Zuckerberg to "invest 1 billion dollars into Kanye West ideas," according to E! News. He then criticized Zuckerberg and other Silicon Valley billionaires for their charitable donations, writing, "you'd rather open up one school in Africa like you really helped the country…" (I guess a donation to Kanye West is supposed to be a more noble endeavor?)
Even though he's certainly no stranger to controversy, his tweets seemed pretty odd, especially since West earned a reported $22 million in 2015 alone without even releasing an album, according to Forbes. Surely this year will be another good one for the rapper, thanks to the release of The Life Of Pablo, and, most likely, a lucrative tour to support the album (not to mention revenue from his successful fashion line, and his many other business ventures — plus, you know, the fact that his wife is also super rich and successful in her own right).
But even though his claims are difficult to believe, West has had so many "did he really say that?!" Twitter moments in the past that it wouldn't necessarily be that much of a stretch to understand why he would actually think he is more deserving of Zuckerberg's millions than African schoolchildren. There was his recent, controversial tweet exclaiming his view that Bill Cosby is innocent, his epic 30-tweet-long rant at rapper Wiz Khalifa, according to CNN, and even more drama with Taylor Swift after he included some not-so-nice lyrics about her in one of his new songs, according to Slate. And that's just in the last two months.
But if he is really in debt to the tune of millions, I can't really imagine that there will be that many people rushing to bail him out. I mean, if you can bring in $20 million a year and shell out $74,000 on Christmas presents for your daughter, according to the Daily Mail, I'm going to go out on a limb and say that most people would agree that there are much better ways Mark Zuckerberg can use his money to help the world than by giving it to West. Still, it's more likely that this is some kind of strange, somehow-artistic joke in the mind of West.