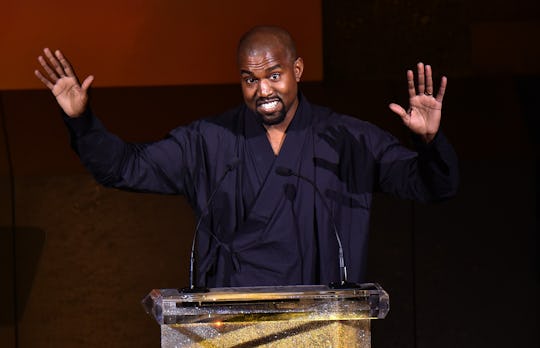 Michael Loccisano/Getty Images Entertainment/Getty Images
Kanye West Will Release Another Album This Summer, According To Kanye
In yet another Twitter rant that the world has come to kind of love and expect from him, Kanye West said he will release an album during summer 2016. During the rant on Wednesday, West talked about the Oscars and the #OscarsSoWhite controversy, the fight for black rights against systems of oppression, and — of course — how he feels about himself. I joke, but it was actually one of his more interesting rants, and it did seem really happy and heartfelt at times, which was kind of inspiring. Not to mention, after waiting for The Life of Pablo for so long, it's a welcome surprise to fans that West will release another album this summer.
West began the rant, which has got to be a good 40-tweets long, by saying "I would like to sit down with Neil Portnow right now," referencing the Grammys CEO, according to Billboard. West, who didn't receive a Grammy this year because he didn't produce any music in the Grammys calendar year for 2016, said that he and so many other "cool artists" have had their hearts broken by the Grammys system, which have received some amount of criticism for nominating mostly white artists. The only weird thing is that West didn't criticize the Grammys for being white-washed; he criticized them, it seemed, for not recognizing real talent (like himself):
Then West did kind of say that the white washing was the reason the Grammys weren't fair. But he also said that he makes the show... so, it's confusing.
West's Grammys tweets honestly kind of had a point. Acknowledging certain aspects of hip hop music and culture isn't really cool, especially when the people doing the acknowledging are not experts in black culture or music (most of them aren't even black). Rolling Stone's Raquel Cepeda pointed this out last February when discussing Grammy nominations for hip hop artists, and black artists, generally:
The hip-hop artists, including those who've managed somehow to strike an emotional chord with a broad audience, that have even hinted at self-determination, political or social activism, and presented unprocessed depictions of life in urban America, have never walked away with a Grammy. Not Public Enemy, or N.W.A, Wu-Tang Clan, Mobb Deep, and dead prez? Nope. And, brace yourselves, not even Notorious B.I.G. or Tupac Shakur.
And that's what West seemed to be pointing out.
But West's biggest announcement came later in the Twitter stream:
There's no word on what the album will be called or exactly when it will come out, but West said it will. He also patted himself on the back for being "a voice of freedom when so many people are scared to speak up." He was seriously not afraid to be himself on Wednesday.
But, then, about two hours later, West said that he's not a rapper.
It was a confusing, exciting day to follow West on Twitter.