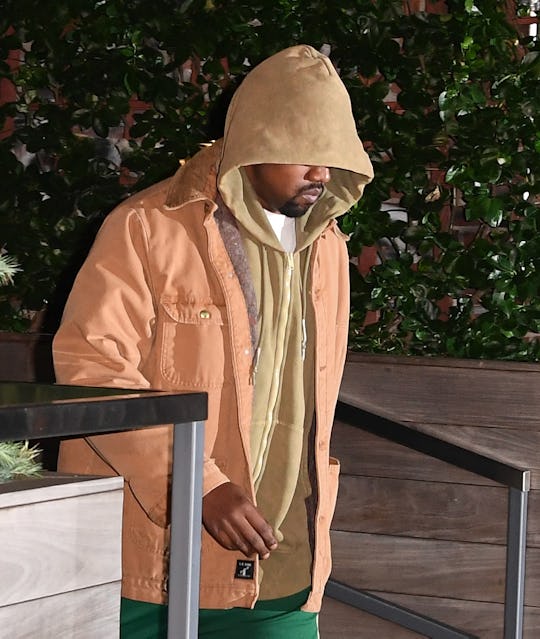 ANGELA WEISS/AFP/Getty Images
Kanye West's 911 Audio Is Out, But Here's Why You Shouldn't Listen To It
After several incidents at his concerts — and the complete canceling of the rest of the Saint Pablo tour — rumors began to circulate that rapper Kanye West had been admitted to the hospital, sources citing "exhaustion." It appears that West was taken to UCLA Hospital via ambulance Monday afternoon after a 911 call was placed from the home of his trainer, Harley Pasternak, according to reports from TMZ. Kanye West's 911 call audio (that's a link to TMZ's coverage, but I suggest you skip it) is out, but here's what you shouldn't listen to it.
The person who placed the call told dispatchers that West was behaving "erratically," and the situation was taken as a psychiatric emergency. This development came just days after West went on a mid-concert rant and then abruptly canceled the rest of his tour. West's representative hasn't responded to Romper's request for comment.
If West has experienced some kind of breakdown, regardless of the cause, he's just as deserving of help as anyone else. While it's reasonable to assume that the media will cover a celebrity's breakdown or hospitalization, because they are public a figures, is it necessary to broadcast the most intimate details of the event?
Grappling with mental illness is a vulnerable experience for anyone. Now amplify that experience by having millions of people following your life, and the media trying to find out every last detail about what you're going through. Regardless of fame, it can be very difficult to ask for help where mental illness is concerned, because there's such a stigma against those who struggle. Factor in any kind of substance abuse, and it becomes even more complex — but consequently all the more enticing for headline writers.
It's believed that as many as one in five adults experience a mental illness within a given year, according to the National Alliance on Mental Health. Celebrities are included in that — as they are, despite their fame, members of the population. While many celebrities may not face challenges accessing care or the financial constraints many face, they are still up against the stigma attached to mental illness, often in very high profile ways.
West is hardly the first to experience this, though: the media's minute-by-minute coverage of Britney Spears' struggle with mental illness in 2007 perhaps being one of the most well-known, and Lindsay Lohan's numerous hospitalizations and legal troubles have been headline fodder for more than a decade.
Many celebrities have used their experiences with depression, or other mental health conditions, to raise awareness and attempt to address the stigma attached to them. Demi Lovato has spoken openly about her struggle with depression, eating disorders, and self-harm. Lady Gaga has talked about how her depression impacted her career early on, and Jim Carrey has been open about how antidepressants have helped him throughout his life.
Back in 2007, West made headlines (and memes) for infamously interrupting Taylor Swift's acceptance speech at the MTV Video Music Awards. He said the experience, which happened shortly after his mother died, made him realize he needed help dealing with his depression, which he indicated included suicidal thoughts, according to Gawker:
People tell you to always be humble, humble, humble, [but] when's the last time anyone told you to be amazing, great, or awesome. I will not give up on life again. There's so many people that will never get the chance to have their voice heard. I do it for them.
West's hospitalization comes just a month after his wife, Kim Kardashian West, was robbed and held hostage in a Paris hotel. Kardashian was scheduled to attend the Angel Ball in New York City — her first public appearance after the robbery — when West was hospitalized.