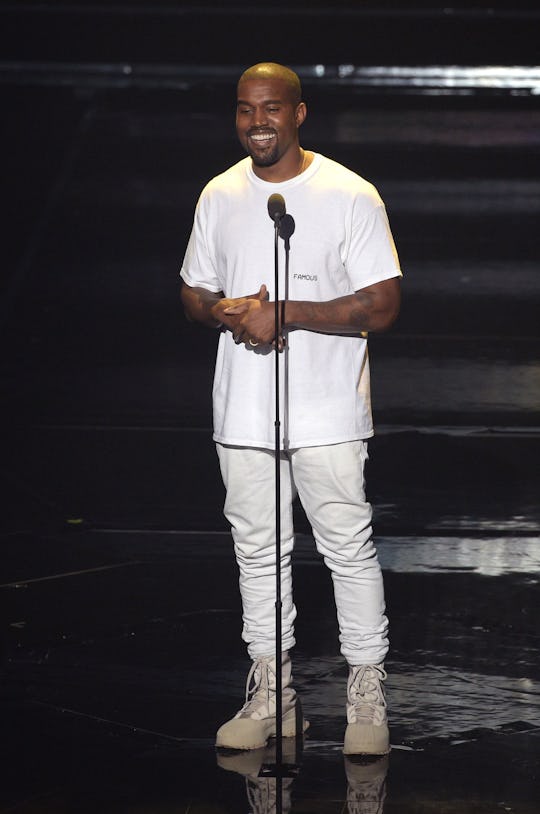 Jason Kempin/Getty Images Entertainment/Getty Images
Kanye West's "Fade" Featured Sheep At The VMAs
After a rambling introduction on Sunday night, Kanye West was finally ready to debut his new music video at the MTV VMAs. Set in a gym, Kanye West's "Fade" featured sheep, a shower, and a dancing Teyana Taylor. The video propelled itself into the absurd, as West is wont to do. Though the sheep were definitely an odd turn at the end, they easily tied with Taylor's turning into a cat-woman. Basically, Taylor looked like the Snapchat dog filter, but less cartoonish and infinitely more creepy.
Before the sheep joined her, Teyana Taylor was dancing alone, executing "a series of moves based on a dance sequence from the 1983 movie Flashdance" in a gray crop top, thong, knee pads, gloves, and bare feet. Then came a super steamy shower moment with her husband, NBA player Iman Shumpert. Suddenly, we're back at the gym, Taylor's naked and wrapped around Shumpert, her nose has morphed into that of a cat, there's a baby, and, well, tons of sheep in front of them. An entire foreground of sheep. Many on Twitter were quick to pick up: Maybe West is calling all of us sheep, aka zombies aka blind followers easily manipulated by our leader. Is Kanye West our leader? Or is it MTV? Queen Bey? The media?! Regardless, it felt like a dig, like West was calling all of us mere "sheeple."
West's VMAs speech that introduced "Fade" gave shout outs to—what else—his other video, "Famous," which he conceded, "might lose to Beyoncé." After an aside/shout-out to/about Taylor Swift ("'Man that's right tell Taylor to...' Bro, like, I love all of y'all. That's why I called her"), West proceeded to speak discursively. He spoke loosely of race and class issues, emphasizing: "There's three keys to keeping people impoverished. That's taking away their esteem, taking away their resources, and taking away their role models." His four-minute address definitely didn't address sheep, at least not directly.
The sheep in the "Fade" video could have been a random symbol, sure, but if you want to watch it again and again to dissect more meaning, you'll have to get Tidal. (I know. Bummer.) If you want to listen to some of Taylor's work, though, you can do so plenty of other, less exclusive places. Taylor signed with West's label, G.O.O.D. Music in 2012 as both a rapper and a singer and the 25-year-old released a full length album entitled VII in 2014. So you know — what are you waiting for?