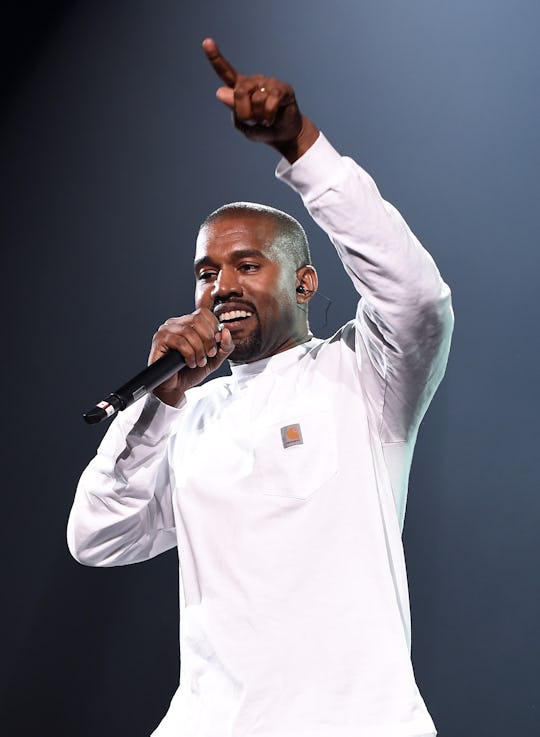 Dimitrios Kambouris/Getty Images Entertainment/Getty Images
Kanye West's Hospitalization & His Reasons For It Aren't Up For Judgment
After a week of somewhat erratic behavior while on tour, rapper Kanye West was hospitalized on Monday evening after a disturbance call to his Beverley Grove home turned into a medical emergency. Already, media outlets are reporting different reasons for the Life of Pablo star's hospitalization, and fans have been reacting to Kanye's health news with everything from support to criticism. Despite the rapper's life in the public eye, however, it's important to remember that Kanye West's hospitalization and the reasons for it aren't up for judgment.
According to People, West was hospitalized for exhaustion, with one unnamed source telling the magazine, "He feels like he's under spiritual attack, and has been for awhile." The source also said November was a difficult time of year for West, since his mother died in November 2007. "This time of year always brings him a lot of pain," the source told People. "He keeps that pain internalized, but sometimes will talk about how hard this time of year is for him. He works through the pain every November."
According to TMZ, Dr. Michael Farzam, the man who is reportedly West's physician, had West placed on an involuntary psychiatric hold on Monday night, telling officers during a 911 call that his patient suffered from "temporary psychosis due to sleep deprivation and dehydration." West's representative hasn't responded to Romper's request for comment.
The news of West's hospitalization came after a week of somewhat negative attention for West. During a Sacramento show, West performed three songs before criticizing several famous people (Mark Zuckerberg, Hillary Clinton, and Jay Z among them, according to BBC) and walking off the stage. He then proceeded to cancel all remaining dates on his Saint Pablo tour. Needless to say, not all fans were supportive of West's choice to cancel his tour, nor were they all impressed by his short-lived show in Sacramento.
However, while West has always been a controversial figure who has drawn his fair share of criticism, now is perhaps not the right time for judgment. People can be disappointed that the show they were looking forward to was canceled; they can disagree with his political stance or dislike the music he creates. All of that is fine. But judging someone based on health issues outside of their control is never justified — and criticizing a person based on their mental health is just as inconsiderate as making fun of someone for a much more visible physical disability or illness.
Regardless of whether that person is your co-worker, close friend, or a celebrity whose name you only glimpse in headlines, a person's struggles with mental health are nobody's business to comment on. And if you're joking about West's mental health or judging him for his health issues, keep in mind that you're not only judging West — you're telling anyone within earshot (or tweetshot) that you don't consider their mental health issues serious and deserving of your respect, love, and support.
Mental health stigma is alive and well today, and in order to combat it, we need to change the way we speak about all people experiencing mental health problems — not just our family members or friends who are dealing with their mental health in private.
West's hospitalization, for better or worse, is public knowledge. The important thing now is to use that knowledge for good: rather than berating a person who we don't know, we can choose to use the news of West's health as a way to open up a much-needed dialogue about mental health. It can be a way to bring up our own health issues, an opportunity to talk to our children about the importance of self-care, or a chance to let others know we support them — no matter what they may be going through.