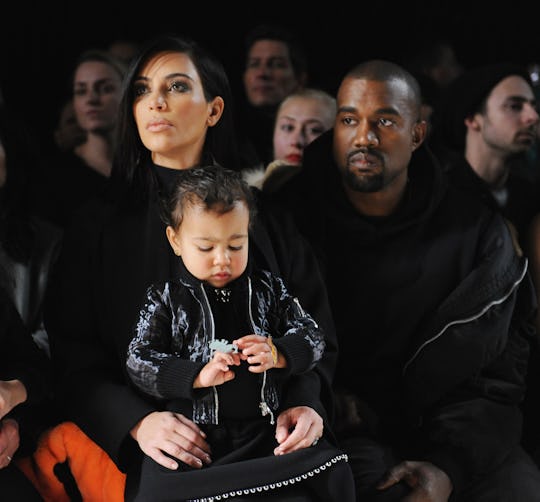 Craig Barritt/Getty Images Entertainment/Getty Images
Kanye's 'Ye' Track About His Daughters Is Actually Really Problematic
After a whirlwind late-night listening party in Wyoming on Thursday, fans are eager to learn about all the topics covered on the eighth studio album by Kim Kardashian West's husband. I mean, what could possibly follow "poopity scoop"? There are certainly plenty of controversial statements throughout, but Kanye West's lyrics about his kids on Ye deserve a critical eye, even though they're probably the topic he mentioned the least. Sure, there are the casual asides about slavery and North Korea, shout outs to Stormy Daniels and George Jetson, and plenty about sex, drugs, and mental illness, but let's leave those for a thousand other think pieces, for now.
West's children aren't mentioned by name, but the seventh and final track of his new album, "Violent Crimes," featuring Ty Dolla $ign, DeJ Loaf, and Nicki Minaj, is about them. More specifically, it's about his female children, an important distinction in West's eyes, apparently, because the lyrics, per Genius, appear to show that he thinks of his daughters, North and Chicago, in a different way than he does his son, Saint. After an intro and a chorus by DeJ Loaf, West begins the first verse by making it clear how men feel about women, and the way that they're regarded by men, himself included.
N*ggas is savage, n*ggas is monsters / N*ggas is pimps, n*ggas is players / 'Til n*ggas have daughters, now they precautious / Father forgive me, I'm scared of the karma / 'Cause now I see women as somethin' to nurture / Not somethin' to conquer
This is a common trope: a man sees women as sex objects until he has a daughter — a female human whom he actually cares about — and realizes that they're actually people, maybe. But does West have more respect for all women now, or just the ones who share his genes?
By now, nearly everyone is familiar with the controversial lyrics in his 2016 track, "Famous," which renewed the beef between West and Taylor Swift, and pulled just about everyone in Los Angeles into it. In case you're the one person who isn't, those lines are, "I feel like me and Taylor might still have sex / Why? I made that b*tch famous." Not exactly respectful. And the original lyrics, according to Vanity Fair, were even worse:
I feel like Taylor Swift still owe me sex / Why? I made that b*tch famous / Amber Rose owe me sex / I made that b*tch famous, not really, but somewhat famous
"Famous," of course, came out well after West's first daughter, North, was born. And it doesn't seem as though his attitude towards women has evolved much in the two years since — at least according to his music. On the Ye track "All Mine," he boasts that he "could have Naomi Campbell," and includes a reference to his sister-in-law Khloé Kardashian's boyfriend, Tristan Thompson, who was recently the center of a huge cheating scandal:
All these thots on Christian Mingle / Almost what got Tristan single / If you don't ball like him or Kobe / Guarantee that b*tch gonna leave you
A "thot," if you weren't aware, is an acronym for "that ho over there." West appears to blame the other women for Thompson's infidelity, and then implies that Kardashian forgave him only because he's rich and famous.
Another Ye track, "Yikes," seems to glorify cheating while simultaneously condemning the women one cheats with: "Uh, told my wife I've never seen her / After I hit it, bye Felicia, that's the way that I'ma leave it" is later followed by "This is why your b*tches f*ck with me, huh / Smash, she gon' end up on TV, huh?"
Worse still is another line from "Yikes" wherein West addresses music mogul Russell Simmons, who is accused of rape by multiple women (Simmons has denied the allegations, and his representative has not responded to Romper's request for comment). "I'ma pray for him 'cause he got #MeToo'd / Thinkin' what if that happened to me too / Then I'm on E! News." West characterizes the #MeToo movement as something that's done to men, a weapon that women wield against the rich and famous, rather than a response to the real crimes men have committed against women. A rep for West did not respond to Romper's request for comment.
Back to the two women who West doesn't want to be "conquered." In "Violent Crimes," he raps that he would commit crimes on any man who might come calling on them for a date, discourages them from practicing yoga or pilates, and even polices their clothing: "I pray your body's draped more like mine and not like your mommy's." Does he have a problem with the way his wife dresses? No, he literally dresses her himself, according to Vogue. But, despite the fact that Kanye seems to objectify his wife and other women regularly in his music, he does not want anyone to objectify his daughters:
That's your baby, you love her to death / Now she cuttin' class and hangin' with friends / You break a glass and say it again / She can't comprehend the danger she's in / If you whip her *ss, she move in with him / Then he whip her *ss, you go through it again
West's label did not immediately respond to Romper's request for comment. "Violent Crimes" doesn't read like a man who's finally woken up and realized, through the virtue of fathering daughters, that women are people. It reads more like a man who's marking his territory, letting other men know that North and Chicago will never be theirs. Nurturing is about encouraging the growth and development of your children into full-fledged adults with agency, not caging them up.