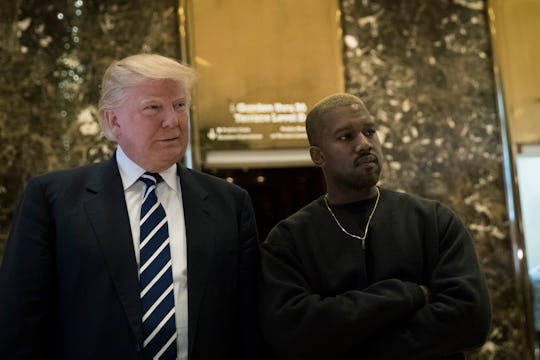 Drew Angerer/Getty Images News/Getty Images
Kanye West's Lyrics About Trump On 'Ye' Aren't What You'd Expect
Rapper Kanye West played his new album, Ye, for the first time publicly Thursday night at a listening party in Jackson Hole, Wyoming, and on Friday, the seven-track EP became available on streaming sites for the world to listen to and deconstruct. Despite recent controversy over his enthusiastic support for President Donald Trump and his belief that slavery was a "choice," Ye is getting lots of love on social media, and West definitely hasn't held back from openly discussing things like his opioid addiction, bipolar disorder, and even Tristan Thompson, according to Vulture. But Kanye West's lyrics about Trump likely aren't exactly what people were expecting from the outspoken rap star: even though he made headlines for a series of tweets in which he said he "[loved] Trump," and that the two men were "both dragon energy," according to TIME, West didn't actually directly discuss his views on the POTUS much at all on Ye. And given that he unapologetically takes aim at so many other things on his new release, it's actually pretty surprising.
Given that the love West expressed for Trump appears to be 100 percent mutual, I can't help but think that the president might actually be really disappointed to learn that West hasn't directly name-dropped him in one of his tracks. In fact, aside from referencing North Korea in "Yikes," the closest he seems to get to discussing Trump is when he mentions his alleged affair with an adult film star, rapping, "I could have Naomi Campbell/And still might want me a Stormy Daniels."
Trump, of course, has denied the affair claims, and earlier this month, Trump tweeted that while Daniels' did receive a $130,000 payment from lawyer Michael Cohen, it was part of an agreement meant "to stop the false and extortionist accusations" that the two had been involved, according to CNN. The fact that West, whom Trump definitely seems to be a fan of, decided to reference Daniels in his song might not go over entirely well with the president. But then again, if in fact Daniels had been Trump's mistress, West does seem pretty sympathetic towards the whole idea.
As a whole, "All Mine" discusses the nature of infidelity, and appears to argue that affairs can be difficult to avoid, especially for celebrities. West says, after all, that even if he had a supermodel like Campbell, he might still be tempted to be with Daniels — and that even though Tristan Thompson was with West's sister-in-law, Khloé Kardashian, he couldn't stay away from "all these thots on Christian Mingle." Perhaps luckily for Thompson though (and maybe also Trump), West says you've still got a chance that your partner will stick around if you're rich and famous.
If anything, the people who might really deserve to be angry here are the Kardashian women — not only does it seem like Khloé probably won't be too impressed by West's comment about Thompson, his thoughts on cheating scandals in general can't be sitting too well with his wife, Kim. In fact, on "Wouldn't Leave" West acknowledges the way that his comments about slavery in his TMZ interview (as well as his pro-Trump tweets, perhaps) had a big effect on his wife:
Now I'm on fifty blogs gettin' fifty calls
My wife callin', screamin', say, 'We 'bout to lose it all!'
Had to calm her down 'cause she couldn't breathe
Although any direct references to Trump seem to have been left out of Ye, The Guardian noted that one track he released previously that seemed meant for the album did talk about his pro-Trump stance. In "Kanye West vs the People," West included the lines, "Make America great again had a negative reception/I took it, wore it, rocked it, gave it a new direction."
It's not clear whether West intentionally decided to leave Trump out of the conversation around Ye, but if he did, it may have been a smart move. Though many Twitter users refused to give the album a chance in light of his recent commentary, many seemed to come around, lauding the album even if they disagreed with his views:
Whether you love West's new album or hate it, it's no surprise that everyone is talking about it. It doesn't seem entirely unreasonable though to think that maybe, just maybe, the president is in the Oval Office today wondering whether his invite to join his "brother" in Wyoming Thursday night may have been lost in the mail.