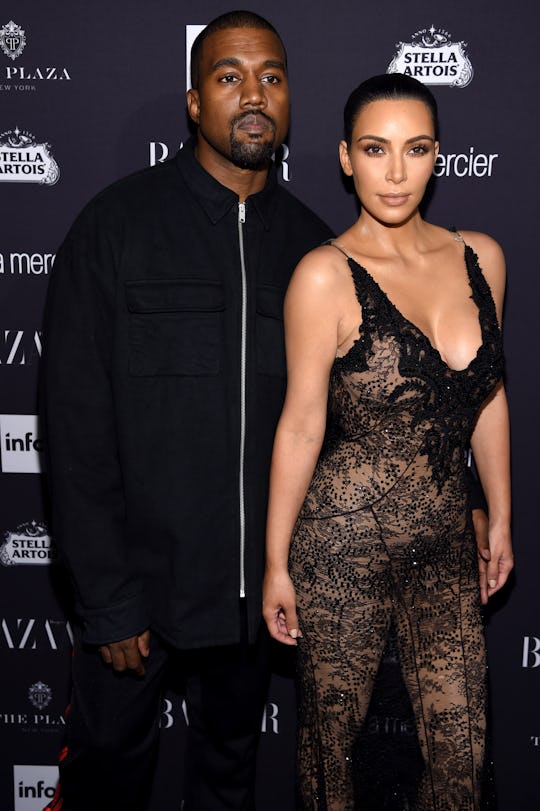 Dimitrios Kambouris/Getty Images Entertainment/Getty Images
Kanye West's Quotes About Kim Kardashian Prove He's Smitten For Life
Kanye West has a lot of love for his wife, Kim Kardashian. This makes a lot of sense since Kardashian is West's first wife, and the mother of his three kids — daughters North and Chicago and their son, Saint. Fans know West best as a pretty outspoken guy, so of course he would be outspoken about his relationship with Kardashian, too. Although he can be pretty unpredictable, West's quotes about Kim Kardashian show that people can count on him to always be there for his wife.
West and Kardashian's relationship is one for the history books. Long before Kardashian and West began dating, West recalled seeing a photo of her with Paris Hilton in 2006 and being "smitten with her", according to Rolling Stone — but it would be long before they started dating. The couple remained friends for years, according to Rolling Stone, before finally going public with their relationship in 2012.
As the story goes, Kardashian announced that she was expecting the couple's first child together at the end of 2012, according to the Daily Mail, welcomed their first daughter, North, in June 2013, got engaged in October that same year, and tied the knot in May 2014, according to the Sun.
Needless to say, a lot has happened over the course of their relationship — but one thing that has remained a constant is West's love for his wife, which is evident in these quotes about her.
On Her Greatest Gift For Him
In September 2013, during a radio interview for BBC in the United Kingdom, according to People, West said that Kardashian gifted him with the best thing of all, but it wasn't anything of monetary value. West stated, according to People:
Family time — it's what Kim gave me. She gave me everything. She gave me a family. She gave me a support system.
How stinkin' sweet. At the end of the day, the best gifts of all are the ones that can't be replaced.
On How Happy She Makes Him
Just hours before he proposed to Kardashian, West did an interview with the radio show, KME-FM where he could not stop gushing about how happy Kardashian made him, according to E! News. This makes sense, especially since West would go on to propose to her that night. West said, according to E! News:
I'm so happy to be with her, to live this life together, and — with our relationship with God — to be able to live forever in heaven together. And also to raise a strong family that communicates truth and beauty, and we have a good time while doing it by just being creative...I love that fact that God has put her in my life — every single day.
I'm not crying, you are.
On Kardashian Being A Tastemaker
One of the best things about West is that he is so supportive of Kardashian and everything she does — maybe even a little too supportive, according to HuffPost. During an interview on Ryan Seacrest's radio show in October 2013, West even compared his wife to the first lady Michelle Obama. West said, according to HuffPost:
There's no way Kim Kardashian shouldn't be on the cover of Vogue. She's the most interesting woman in the world right now. She's got Barbara Walters calling her, like, every day...and collectively, we're the most influential with clothing.
Now that is one partner that isn't afraid to "gas up" his girl.
On Their Love Story
As previously stated, Kardashian and West's love story is one for the ages — at least, West seems to think so. During another radio interview on New York's Hot 97 in November 2013, West compared their love story to a very tragic one (fans can only hope that he has his metaphor mixed up), according to TODAY.
"I feel like our love story is a love story for the ages," West said. "I felt like when we first got together it was like a Romeo and Juliet kind of thing where it's like, she's a reality star and I'm a rapper."
Although the Shakespeare classic ends in death, that's probably not what West meant. Instead, he probably meant that they come from two different careers and weren't supposed to end up together — which is pretty romantic when you get down to it.
On How He Knew Kardashian Was The One
During an appearance on The Ellen Show in 2013, West told the show's host, Ellen Degeneres, that Kardashian was his "dream girl" and explained why. West said, according to Us Weekly:
She's an important person that when I was at my lowest moments I could get on the phone with her. She would make me feel like I was here for a reason and I had something to say, and just support me through that. It's incredible to have a woman like that, that you know, is not using you for your money.
On His Favorite Body Part Of Hers
Although Kardashian is known for having a killer body, West doesn't necessarily care about it. In an interview with Harper's Bazaar in 2016, West said his favorite thing about Kim was hiding inside of her.
"My favorite body part of Kim's: heart," West said.
On The Power They Have Together
In an interview with GQ, shortly after West and Kardashian said "I do," West explained to the magazine how powerful he and his wife are together:
It's something I explain to my girl: She is who she is. I am who I am. We have advisers and friends and everything, but those people are who they are and we are who we are. And what I had to learn from Kim is how to take more of her advice and less of other people's advice. There's a lot of Kim K skills that were added. In order to win at life, you need some Kim K skills, period.
Just by reading these quotes, there is no way of denying that West is deeply in love with Kardashian and thinks the world of her. He supports her, loves her for so much more than just her looks, and wants her to succeed. Talk about one devoted husband.