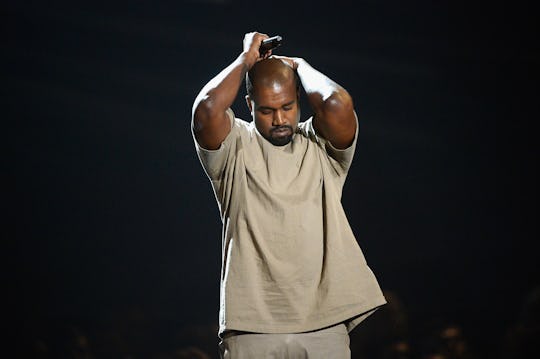 Kevork Djansezian/Getty Images Entertainment/Getty Images
Kanye West's 'SNL' Meltdown Was Caught On Tape & It Needs To Be Taken Seriously
An audio tape has surfaced of rapper Kanye West's backstage meltdown before his Saturday Night Live performance last weekend. The New York Post reported that West blasted SNL production staffers about supposed changes made to the stage ahead of his appearance, before ripping into Taylor Swift (again). Swift was not on the set.
After West reportedly screamed a series of profanity-laden threats at the SNL staff, he started in on anyone within earshot on just how big a mistake it was to cross him, the Post reported. At one point in the audio tape, West proclaimed himself 50 percent more influential than anyone else in the world, even the apostle Paul. For those unfamiliar, Paul is believed to have been tasked by Jesus Christ himself with spreading the message of Christianity.
Before you read further, I warn you that the audio tape (and the snippet transcribed below) contains plenty of profanity. Here's some of what West could be heard shouting in the recording:
Are they f—–g crazy? Whoa by 50 percent [I am more influential than] Stanley Kubrick, Picasso, Apostle Paul, f—–g Picasso and Escobar. By 50 percent more influential than any other human being. Don't f–k with me. Don't f–k with me. Don't f–k with me. By 50 percent dead or alive, by 50 percent for the next 1,000 years. Stanley Kubrick, 'Ye.
Listen to West's entire SNL rant below:
This latest outburst from West came at the end of a long weekend of roller coaster headlines from the famously hotheaded rapper. West released his long-awaited album The Life of Pablo on Friday, just after launching the latest season in his Yeezy fashion line. But by Saturday night, just before his SNL appearance, West was on Twitter claiming to be $53 million in debt, and pleading with Mark Zuckerberg (who is not on Twitter) for an investment.
It wasn't — and still isn't — clear if West meant the tweet as a joke or as an odd way to approach the multi-billionaire about a possible partnership. But West's random ups and downs, along with his hair trigger temper, seem more like a warning sign than a business plan.
By now, fans have almost gotten used to West's ego and his self-aggrandizing rants. They've become part of his public persona, along with his seemingly weekly battles on social media against some foe (either real or imagined). But shouldn't we be taking West's meltdowns more seriously? Do these tantrums only mean more publicity for West and his projects, or are we watching an honest-to-goodness implosion of an otherwise brilliant artist? Either way, this isn't funny anymore.
West's longtime cowriter Rhymefest took to Twitter recently to express deep concerns over the rapper's mental state. When a fan asked why Rhymefest and Kanye West no longer work together, Rhymefest — who helped West write "Jesus Walks" and "New Slaves" — shared concerns that the rapper's "mind and spirit isn't right."
"My brother needs help, in the form of counseling," Rhymefest tweeted. "Spiritual & mental. He should step away from the public & yesmen & heal."
That's a sentiment that many of West's fans on Twitter seemed to share after his latest round of public meltdowns. But while some called for an honest conversation about the star's possible depressive state, others were skeptical to call West's actions anything more than regular Yeezy.
It's also possible that Kanye himself has dropped hints on his mental state. In what's been called "the most honest track" on The Life Of Pablo album, West spoke candidly about leaving the party lifestyle behind for his wife and growing family — but he also dropped a few verses about Lexapro and Xanax, two drug names that would ring familiar to any fans struggling with bipolar disorder or depression. In a single titled FML, for F–k My Life or For My Lady, West raps, "You ain't never seen nothing crazier than / This n—a when he off his Lexapro."
It's a complicated situation. And to be fair to West, I'm not a doctor and I don't have personal experience battling mental illness. So, I'd be out of line if I tried to offer a pretend diagnosis of what West may or may not be going through. But what's clear is that West's family and friends should be helping him talk about his irrational behavior, delusional rants, and random outbursts to someone who is qualified to help. Because something about West is starting to seem off — like, dangerously off — and it's becoming tough to dismiss.