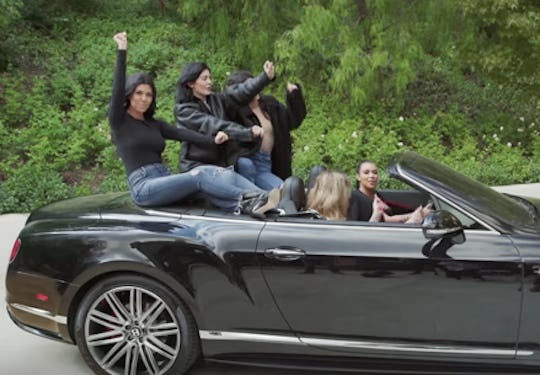 Kim Kardashian West/YouTube
Kardashian-Jenner Sisters Recreate Their Mom's Epic 30th Birthday Video, & It's Almost As Amazing As The Original
So unless you've been avoiding Twitter for the last 24 hours (in which case, you are a much stronger person than I, and you'll have to show me your ways), you're probably well aware by now that yesterday was Kris Jenner's 60th birthday. And because the matriarch of the Kardashian-Jenner clan doesn't ring in birthdays like your mom (aka at the Cheesecake Factory, with an "Over The Hill" balloon tied to the back of her chair), she did it in high style — with a jaw-droppingly lavish, Great Gatsby-themed party. And the best part? Her daughters recreated Jenner's 30th birthday video, from 1985. And it is golden.
If you haven't seen the original vid, then you are seriously missing out on some of the best four-minute footage that has ever graced YouTube. The clip was made by Jenner, then Kardashian, back in 1985 to commemorate turning 30, along with her first husband, Robert Kardashian. It features Jenner sing-talking about the awesomeness that is her life to the tune of "I Love L.A." Except, before you roll your eyes too much at that concept, it's a little less "my life is awesome, and you should be jealous," and more "It's actually retitled "I Love My Friends." (But OK, you probably will still be jealous of everything besides her 80s bangs and puffy sleeves.)
It's basically everything awesome and everything terrible about the 80s all rolled up into one amazing clip. It's very Phyllis Nephler, a la Troop Beverly Hills, if you get me, and it was like a gift bestowed upon the Internet when Kim Kardashian first shared it with us back in 2011, when she posted it to her personal website, KimKardashian.com.
There's Kris hitting up Rodeo drive, talking about all the places Julia Roberts got kicked out of in Pretty Woman.
And here we have Kris sing-talking on a treadmill in some kinda underwear-like shorts. Meanwhile, the cameraman (or woman?) gets awkwardly caught in the mirror with her giant, 1980s camcorder.
And here she is hanging in fancy clothes with some fancy friends.
...and some not-so-fancy friends.
...and some seriously hunky friends.
Yep, it's safe to say 1985 Kris was living her best life at age 30. 
As for the Kardashian-Jenner girls' recent recreation, they more or less had a blast making the vid for their mom (because, obvs). According to a source that spoke exclusively with Us Weekly: "It was very funny and and campy and had funny lyrics about how much Kris loves her friends," the source said. "The girls would sing the verses and in between each verse it would cut to a video of someone from one of Kris' favorite places or singing 'You love your friends.'"
Watch the full vid, including the girls' recreation, right here: 
Image: Kim Kardashian West/YouTube