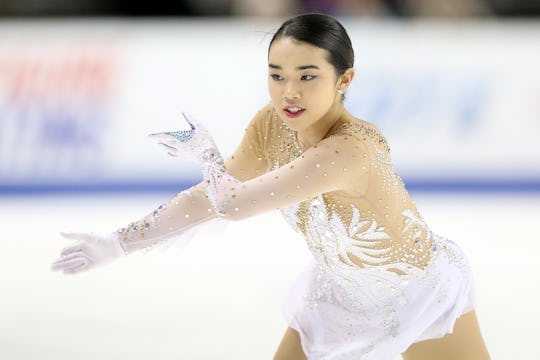 Matthew Stockman/Getty Images Sport/Getty Images
Karen Chen's Instagram Proves This Winter Olympics Figure Skater Is A Regular Teen (Sort Of)
Just casually perusing Karen Chen's social media accounts, one could almost believe that she's just your average 18-year-old girl who loves ice skating, her family, and being outdoors. Of course, as an Olympic figure skater, Chen is hardly your average teenager. But Karen Chen's Instagram proves that she loves to play as hard as she works and that outside the rink she's just a fun-loving girl who also sometimes writes memoirs in her spare time.
Figure skating is definitely the most entertaining of the winter Olympic sports. If you disagree, I'm sorry, but you are wrong. The athletic idols of my youth were Michelle Kwan and Tara Lipinski (with a particular soft spot for Kwan). For the Olympics-watching little ones of today, perhaps Karen Chen will be their own athletic idol. And these kids will get the added benefit of watching Chen's Instagram account, which documents all about her life. Sure she's got plenty of skating pictures of course, but Chen also shares photos with her family, adorable childhood pictures, and awesome shots of her standing around outside looking amazing. She may be an Olympic athlete, but Chen looks almost, dare I say it, normal? Here is what I've learned about Chen from her social media alone.
She Is Close With Her Brother
Chen's brother Jeffrey also skates, and she often posts pictures of the two of them goofing off. As twins, the two of them are clearly close, and Chen talks often about how supportive her brother has been. She set up a GoFundMe to help raise money so that her whole family could afford to go with her to PyeongChang for the Olympics (as skating is a very expensive sport). In the paragraph she specifically mentioned how much she wanted her brother to be able to experience the Olympics with her.
She Has A Thing For Bears
Chen's Instagram handle is @karebearsk8, presumably because people called her Kare Bear when she was growing up (it's hard to escape). In this Instagram caption she writes that she used to despise the nickname but now fully embraces it. Chen has lots of pictures of herself with stuffed bears, suggesting that she's fully in favor of the fluffy lovable animal. Cute!
She's A Published Author
What, like it's hard? Chen published her memoir called Finding the Edge, about her journey to the Olympics. The book also includes a description of her chronic back pain, which she initially thought might threaten her skating career. But she ultimately decided not to let the condition be the boss of her, and look at her now. Wow.
She's Been Doing This For A While
Take a look at this baby Olympian doing baby jumps and turns and I dare you not to squeal. No seriously, it's impossible. That is one cute little figure skater.
She Loves The Sun
Chen may spend her life on the ice, but she's also a California girl, and that means she spends a lot of her time on the beach and soaking in those lovely hot rays. That makes Chen one sunny ice princess.
Some other interesting facts about Chen include the fact that her family immigrated to the United States from Taiwan before she was born. She has said that she's very proud of her Taiwanese heritage. For luck she wears a jade rabbit necklace that her mother gave to her when she was nine after she suffered a foot injury. Clearly that thing has worked wonders.
As for me, I just can't wait to see Chen kill it on the ice in PyeongChang. You go, girl.
Check out Romper's new video series, Romper's Doula Diaries:
Watch full episodes of Romper's Doula Diaries on Facebook Watch.