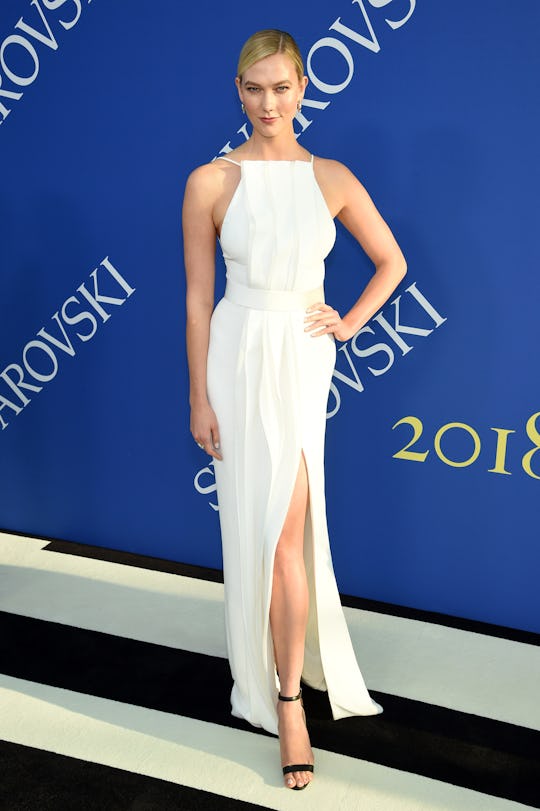 Dimitrios Kambouris/Getty Images Entertainment/Getty Images
Karlie Kloss Is Now Engaged To Jared Kushner's Brother
Ding dong! Yes, those are wedding bells you hear. After six long years of dating, Karlie Kloss and boyfriend Joshua Kushner are engaged! The two made it official after a romantic weekend away together and wedding plans are underway. Despite keeping their relationship mostly out of the media, Kloss and Kushner made their big news public knowledge.
An unnamed source close to the couple spoke with People about the engagement and shared all of the joyous details — including when and where Kushner popped the question. "He proposed a few weeks ago during a romantic weekend together in upstate New York." The source said, adding how excited the couple is. "They're both overjoyed and happily celebrating. Their hearts are full and they're excited to build their future together."
While People reported that the two have been together for six years now, and Daily Mail U.K. dates their relationship back to 2012, few details about their life together were shared with the public until recently. In an interview with Porter magazine, Kloss explained why she kept it all so hush-hush. "It's not like I've ever wanted to be so secretive about my private life," she said. "Carolina Herrera always says, 'A woman who's an open book is boring.' There's no mystery anymore. I know in my life what really matters to me." But she added that she just enjoys a "more private life," and has nothing to hide.
All of that secrecy may be a thing of the past, though, as Kloss told W that she has decided to be more open. Her efforts to maintain privacy seem to have paid off though, considering the couple's happy news. But staying largely out of the spotlight isn't the only trick to keeping a relationship going, according to Kloss. She told W that another important step is making time for one another, regardless of how busy you are:
I'm incredibly busy, but I love what I do. And my boyfriend's incredibly busy, but he loves what he does, too. I think it's important to make time to be with your loved ones — to work hard, play hard. That's the way I live my life.
It's no surprise that Kloss and Kushner are so busy. She splits her time between being a supermodel and writing code (and blowing my mind, TBH), while Kushner is an entrepreneur and venture capitalist, according to People. Despite their jam-packed schedules, this power couple seems to have found the secret to making a relationship work in the world of super celebs.
There's another potential reason to stay out of the media: Kloss and Kushner's political views and his ties to the Trump administration. As you may know, Kushner's brother Jared is President Trump's Senior Advisor, while Kloss and her beau seem to be more left-leaning. The two have made their beliefs known on social media, according to Harper's Bazaar, regularly posting politically charged photos on Instagram.
Harper's Bazaar reported that Kushner shared a photo of Kloss at March for Our Lives and reportedly donated a hefty sum to the cause. And he, himself, was in attendance at the Women's March on Washington. Anyone with a family member on the opposite side to the political spectrum can likely imagine the potential for awkwardness, but Kloss and Kushner seem to be making it work.
Despite busy schedules and a recipe for some serious family drama, Kloss and Kushner have managed to carve out a very sweet life for themselves. When they aren't busy jet-setting off on fabulous vacations, throwing caution to the wind, and generally living their best lives, I'd imagine some serious wedding plans are going on. Mazel tov to the happy couple!