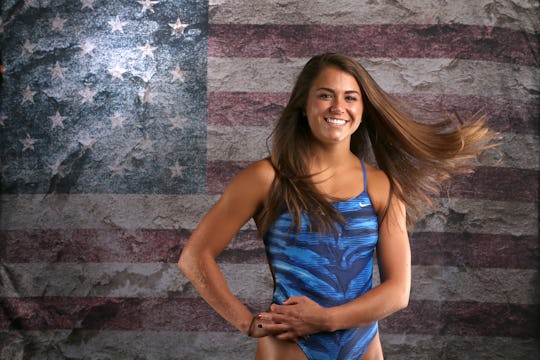 Sean M. Haffey/Getty Images Sport/Getty Images
Kassidy Cook's Instagram Shows She's Dedicated To Diving
During these next two weeks, if you tune in to NBC's Olympic broadcast, you're going to hear so much about some athletes that you feel like you actually know them — through video montages of the athletes at home to interviews with the athletes themselves. Now, through social media, Olympic audiences are able to get to know the athletes even more. For example, one look at Olympic diver Kassidy Cook's Instagram shows that she is super down to earth, but dedicated to her craft.
Kassidy Cook is among one of many first time Olympic hopefuls wanting to score big at the 2016 Rio Olympics. Especially since she narrowly missed out in competing in the 2012 Olympics due to shoulder injuries, according to USA Today. But now Cook is back and looking to make headlines for a new reason — for her wins. Cook competes for her first and only event at the Olympics — for 3-Meter Spring Board Diving — this Friday.
This Olympic athlete is definitely worth getting to know. At 21 years old, Kassidy Cook is just like your average college student. She attends Stanford University (when she isn't taking a gap year to train for the Olympics), has a great family, and really loves her social media. One look at her Instagram account will show people these things — and more.
She Loves Her Family
Kassidy Cook is undeniably gorgeous — and her sisters are too. But good genes aside, the Cook sisters appear to be very close and their bond can not be more evident than on Cook's Instagram. According to People, Cook has five siblings —Kara, Kylie, Kelsey, Kevin, and Kendall — and they could give the Kardashians a run for their money, honestly. "My brother and sisters are my best friends," Cook told People. "They're the people I go to and talk to them every single day! Every single one of them. We are each other's biggest fans, we're a super close-knit, loud, rambunctious family."
She Loves A Good Selfie
I mean, who doesn't love a good selfie? Especially if it is taken in front of millions of people during the opening ceremony of the Olympics and with crazy-amazing basketball players, Kevin Durant and Draymond Green.
She's Completely Dedicated To Her Sport
Among all of the selfies and fun photos with her family, Cook's Instagram is interspersed with amazing videos and photos of Cook diving. After all, she took one year off from college to train to get to where she is today — and watching the videos on her account shows that she deserves to be competing in the Olympics.
She's A Total Badass
Cook's Instagram proves that Olympic diving is hard work and the training is even harder. I mean, you don't get abs like that just from jumping in a pool all day. More than anything, Cook's videos from her training show just how dedicated she is to going for the gold.
She Loves Her University
Cook is one of the many Olympic athletes attending Stanford University in Palo Alto, California. According to her Team USA profile, Cook is majoring in Communications and is expected to graduate Stanford in 2018 — despite taking the past year off to train for the Olympics.
Cassidy Cook's Instagram shows that she is dedicated to winning her first Olympic medal — here's to hoping her first Olympics are deservedly amazing.