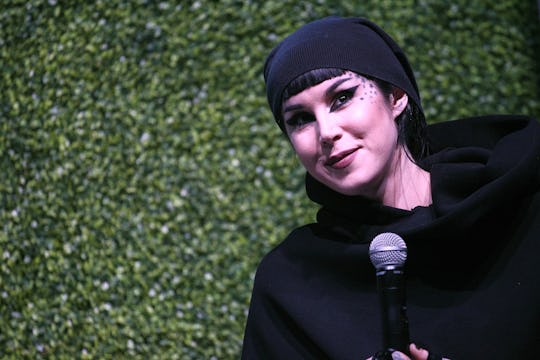 Tommaso Boddi/Getty Images Entertainment/Getty Images
Kat Von D Is Expecting A Baby Boy & The Announcement Is So Cute
It really does seem like everyone and their cousin is having a baby these days, doesn't it? Well, at least in Hollywood it does. There are so many celeb pregnancies, births, surrogacies, and adoptions, that it's hard to keep track. And now, another celeb is joining that group. Yes, Kat Von D is pregnant with a baby boy, her first child, and she already knows what she wants to name her future son.
Von D and her husband, Rafael Reyes, who goes by Leafar Seyer, both announced the happy news on their respective social media accounts. Von D simply wrote, "it's a boy," alongside the photo of her and Seyer cradling her pregnancy bump. Seyer, on the other hand, got pretty romantic with his post and wrote a heartwarming caption. "When I thought I had it all," he began, continuing, "Life gifts me with the greatest of joys ! We are pregnant and having a baby boy. I love you @thekatvond and I'm ready to be a father to our son Leafar. Thank you my love our family comes first!!!"
So there you have it, the happy couple has decided to name their first son after his father, Leafar. And while Leafar might be Seyer's stage name, you'll notice that it's simply his real name, Rafael, spelled backward, making it a doubly sweet gesture.
Obviously, this is a hppy time for the couple, whose love story was both unexpected, and quick. Per Us Weekly, the two got married on February 21, 2018, after being engaged only a week. "Today, I married my soul's mate, my mind's twin, my best friend," the tattoo artist wrote alongside a photo of the couples' hands and rings, tagging Seyer, and including a closing statement in Spanish, "Juntos en vida y en muerte," which means, "Together in life and in death."
Clearly, the couple is very much in love, although it wasn't always that way. Back in April, Von D's beauty company that she founded celebrated its tenth anniversary, and as part of the celebration, Seyer served as a muse and appeared in a video where he spoke about what beauty means to him. "Beauty is in the eye of the beholder, but the beholder can be influenced," he said in the video which he shared to his Instagram page. "I was taught that kindness is beauty."
Before releasing his video, though, Seyer explained that he had been asked to be a muse before the two had officially gotten together. "Funny thing is, she had asked me to be one of her 10 muses for this campaign about a year ago - before I got the courage to confess my feelings to her," he wrote on Instagram.
So really, it's quite extraordinary that Von D and Seyer got together when they did. And it's even more amazing that the mom-to-be is having a baby. Back in 2017, Von D told Dr. Drew Pinsky that she had no plans of starting a family of her own. "No children for me," she said, according to Us Weekly. "The funny thing is that I've known since I was 7 years old that I was never going to have kids." Of course, every woman is entitled to change her mind when it comes to having kids, and Von D is no different. Back in 2017, she said,
I always imagined myself as this worldly, traveling, gypsy lady. I love children, kids love me, but I think I'd make a really good buddy. I don't know if I'd be a bad mom, but it's not what I want. I don't want to put my body through it.
But now, things have changed and the entrepreneur is ready to start a family of her own, something she and her husband are obviously excited about.