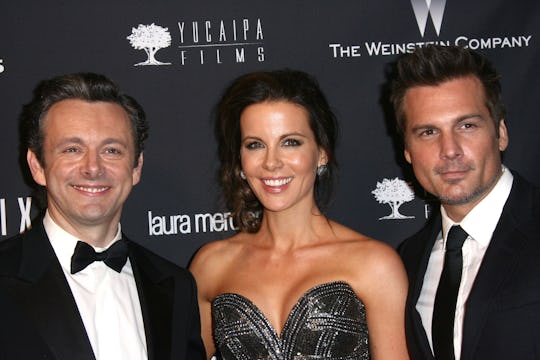 Tommaso Boddi/Getty Images Entertainment/Getty Images
Kate Beckinsale & Michael Sheen's Approach To Co-Parenting Is So Refreshing
Earlier this week, Kate Beckinsale shared a photo on her Instagram page that gave me all the feels, because with one image Beckinsale was able to convey how valuable time is, how important family is, and how time really is fleeting. But what was this image? Well, it was a split image: on the left side of the frame was Beckinsale's daughter, Lily, on her first "first day of school" and on the right was a picture of Lily's last "first day of school." And while, after seeing this photo, I looked longingly at my own daughter, I also thought about Lily's parents, because even though Beckinsale and Michael Sheen divorced before Lily entered kindergarten, they have always parented jointly and cooperatively. Beckinsale and Sheen's approach to co-parenting has always been "do or do not, there is no try." And while many co-parent in this manner, it is refreshing to see love and mutual respect on this scale.
Because Lily's father, Masters of Sex star Sheen, and Lily's mother, Beckinsale — who is perhaps most famous for her roles in Underworld, Pearl Harbor, and The Aviator — have remained close. For 13 years, the couple has remained friendly, and for 13 years they have remained a family.
A strong and beautiful family.
But this family unit isn't just limited to Beckinsale, Sheen, and Lily; in fact, Beckinsale considers Sheen's current girlfriend, Sarah Silverman, part of the family, according to the Daily Mail:
I don't know why everyone was so surprised. Sarah's such a fantastic woman, I love her and Michael and I have gotten on for years now. I've known him since I was 22, we're basically family.
Because, for Beckinsale's, the decision to embrace Silverman wasn't difficult. It just felt right; it was normal:
The thing that surprised me was what a big deal everybody made about us all getting on and then thinking, 'F**k, that's really sad if it's that unusual.'
What's more, Beckinsale loves the influence Silverman has in her daughter's life, and even if she and Sheen were no longer dating, Beckinsale told the Stylist she would still like Silverman to play an active role in Lily's life:
I'm completely open to any other strong, cool sensitive independent-thinking women who are going to be an influence in my daughter's life.
And while I am still married to my husband, I couldn't agree more. Young women need to surround themselves with powerful women, strong women — "independent-thinking" women.
So kudos to Beckinsale, Sheen, and Silverman for coming together despite personal differences, and romantic differences. Kudos for truly embodying the co-parenting ideal.